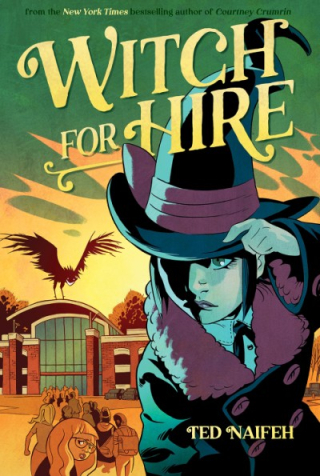 Zombos Says: good story and artwork. 
Writer and artist Ted Naifeh fashions a cursed creature in the form of a Momo (a nasty meme born from Midori Hayashi's enormous-eyes creature image), which leads to mischief for Faye Faulkner and her new and old friends. Faye is a young witch, more or less, and insists on wearing a conical crown and wide-brimmed hat that tethers her, along with a defiant attitude, to the loser's table in the school cafeteria. Cody reluctantly finds her way to that table after her sister rebuff's her. 
Aside from Faye, who holds the warmest seat at that table, there's Julio the dramatic, Jiyoung looking forward to a more accessible learning environment, and Raffi who will eventually own a mansion and a yacht. Even though Cody thinks Faye needs to lose the witch hat to become more acceptable, Cody eventually realizes she has her own issues to deal with; like her mom who was in a bad auto accident; her dad, who's very into himself and his shady business; and her sister, Bryce, who hides a secret better than her nasty disposition.
In flashbacks we learn why Faye acts the way she does. Cody thinks she should help others because of her magical gifts, but Faye disagrees with good reason. A threat to their safety, and that of their friends, moves the disagreement to more perilous footing, and Faye, like many of us have to do at some point in their lives, needs to make a life-changing--or maybe it's a life-affirming--decision. If she can live that long.
Shy_shelbi, an influencer with 2.3 million followers and a personality straight out of the me-me-me 1970s and vanities of the 1980s, just adores bringing all those teen secrets and issues to everyone's tables for a terminal solution. She practically feeds off the emotional turmoil. Before Faye can help anyone she needs to help herself, and Cody provides the catalyst for her to do so. Shy-shelbi has other ideas, though. As Faye struggles with her past and future, Shy-shelbi, who really isn't that shy, keeps Faye's present a stiff challenge.
Naifeh's YA graphic novel takes a page from Midori's creepy image of the Momo, and the Momo's Internet meme-life (almost like another Slenderman) to make the cursed creature, that exists between real and the realm of ideas, a looming threat to everyone. But especially Faye, because she knows what's happening. His storyline then takes more pages from the sturm and drang that anyone who has attended school has felt at one time or another, more so now with social media breathing heaven and hell down everyone's necks, whether you sat at the losers' table or not. Through it all, the bond between Cody and Faye strengthens, gets frayed, and strengthens some more. 
Faye must also come to terms with her past, her present, and her future to keep her and that friendship going. One thing: does anyone say Holy Moly! these days? You would think a chemistry teacher could come up with something stronger, especially after his classroom demonstration pops a bit too much. Maybe only in YA graphic novels, then? I could think of more graphic words if shy_shelbi showed up at my table, that's for sure.
Note: As always, I receive screener links, book copies, and other stuff for review. But I still review 'em as I see 'em.