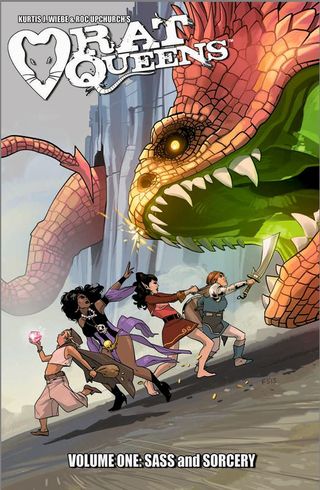 Zombos Says: Good
Normally I wouldn't be caught dead reading a title like Rat Queens (well, maybe if you forcefully stuffed the issues, or the graphic book, into my lifeless hands). It has that fanboy cheek and geek glossing of the usual curse words, the go to, get loose, comic-book-inhabiting female characters, and the appropriately imaginative cosplay trappings hinting at time-periods and imagined realms, where everyone is young and fun-loving, and older people stay indoors or live in some other place similar to Florida. A running joke about Old Lady Bernadette pokes fun at this old age (or is it age-old?) conundrum of comic book lit.
Kurtis J. Wiebe and Roc Upchurch even provide the standard relationships-among-friends squabbles, engaged through ample potty mouth cutesy dialog and enough mentions of donkey d*ck (and reasonable facsimiles) to elicit snickers. They even kick it into high gear with a melange of playful fantasy scenes involving swing the sword and cast the sorcery dramatics executed in a giddy tone on par with television shows like Hercules: The Legendary Journeys, Farscape, and Xena: Warrior Princess.
One thing puzzles me: who the hell in real life is named Roc Upchurch?

Another thing that puzzles me is how I've been caught alive reading Rat Queens Volume One: Sass and Sorcery, given everything I just explained. Perhaps it's because there's also crafty mirth, adorable characters, and there's a plotted storyline that doesn't plop when it needs to pop with its dramatics and its angst. There's also less dubious cleavage and ass-tight clothing going on, so kudos to Kurt and Roc for daring to nudge back on the status quo.
Art and written characterizations work so well here it's surprising how much good story and vibe they can muster while still pandering to the less-discerning fanboy contingent. It takes skill to dip pop culture hip into a fantasy spun around a Lord of the Rings worldview and then ignore its etiquette and liven up everything with cool chics and multi use "d*ck"-isms.
The four cool Rat Queens are Betty, a hot little Smidgen who likes hard liquor and magic mushrooms; Dee, whose parents worship a giant flying squid; Hannah, who conjures up expletives and spells in equal measure; and Violet, who shaves her beard because that's the trend and wields a designer sword three sizes too big. They fight villains, themselves, assassins, themselves again, and giant trolls. They also get beat up a lot, look worse for it, then heal fast thanks to good magic and hard living.
Their hangout locale of choice is the town of Palisade, whose peace and quiet is often ruined by their carousing in the wee hours of morning and night (okay, basically all day). Or, as one character tells it, "what do you expect when a bunch of young people get rich quick and there's nothing to do but drink." There goes that young thing again.
The Rat Queens, along with four other misbehaving groups with names like Peaches, Four Daves, Brother Ponies, and Obsidian Darkness, are released from the town dungeon by Mayor Kane when they agree to go on quests to keep them out of trouble. One particularly dirty quest is to "clean the sh*tters at the Winding Pass Barracks." The Rat Queens dodge that one and get the goblin-clearing quest instead. Now there's a quest you won't see players lining up for in World of Warcraft.
The quests turn out to be a sham and appendages start bleeding and cleaving when assassins hunt down the groups. Betty, Dee, Hannah, and Violet work on fending off sudden death while investigating. Their investigations include downing a few at the local tavern and sizing up potential culprits like "that b*tch Bernadette." A party, candy apple martinis, and sex with a guy that has birds chirping in his beard round out the storyline pretty well.
Beards, magic mushrooms, and young people; and trolls and villains. What's not to like?