A sour and sweet treat to salivate over, Ben Joel Price's At Death's Door, A Picture Book for Grown-Ups, is wicked fun. Twelve little mischievous knockers, out for a Halloween stroll, knocking on every door, they're in for a roll.
And a nasty roll it is, too, trying to get past those ominous looking doors with their multiple dire warnings and booby traps, and into the treats, when so many nasty tricks abound to block the way. Fans of Lenore, the Cute Little Dead Girl and Charles Addams's cartoons will find At Death's Door irresistible.
Poor little oculus, Orville Snide, cries his eye out while Heskith Dregs throws eggs only to find the yolk's on him. Unfortunately.There is one trick or treater who makes out like a bandit, though, filling his swag bag to the brim, but you'll need to get to the end of it all to find out who done it.
Darkly adorable illustrations make this rhyme and mayhem story suitable for grown-up kids and kid-like grown-ups, all done with stark black, shady gray, and pumpkin orange. At 7 by 5 inches, this tidy little tome makes a perfect gift for your home Halloween decor. Better yet, some lucky fiend you know would clamor for this sinister puckish prose, when secreted in a long red stocking hung by the chimney with care or under a mound of candy at the bottom of a bottomless Halloween treat bag.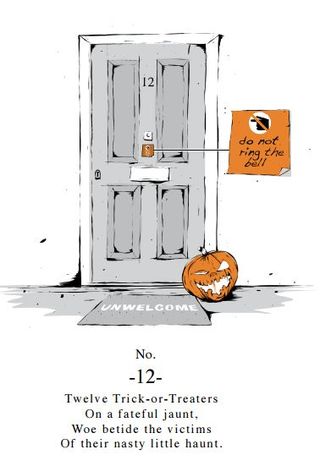 A digital copy was provided for this review.