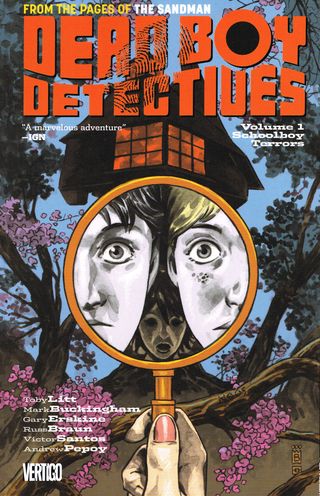 Zombos Says: Very Good
A smidgen of whimsy, a modicum of mystical, and a dollop of the cheeky-odd surround Dead Boy Detectives Edwin and Charles as they float--or sqwoosh when they're in a rush, although doing so makes Charles sick--through their meager caseload of mysteries to solve. You may feel a little light-headed meeting this pale duo cold, without a little warming up first by reading their previous adventures, starting with The Sandman #25, but stick to it; the stories are spread along like a taste of marmalade's bitter and sweet on burnt toast. You may find you like it and want more. Or not.
"You do not really mean to say that, do you?" asked Zombos, leaning over my shoulder, studiously reading as I typed.
"Yes, I do, and why not? And stop snooping and come over so I can see you without getting a crick in my neck."
I pushed my chair out a little, waiting for the debate to commence. The day was warmer than I liked, a higher humidity than I cared for, and so, yes, comenzara el debate; I was ready for him and any zingers he could lob my way.
"Oh, well then, carry on," he said, and walked away. I was dumbfounded. I wasn't ready for that at all. I sipped at my iced mocha latte, loudly, in frustration. Now where was I? Oh, yes...I was going to give some background information on Edwin and Charles to help warm you up before you plunge into reading Dead Boy Detectives Volume 1: Schoolboy Terrors.
Edwin Paine died by murder in 1916 at his boarding school, after insufferable fagging by the senior boys, a lousy lot of ruffians who reveled in doling out humiliation. Adding insult to his death, he found himself not only dead as a doorknob but sent off to meander around hell for years, stalked by a nameless terror. Neil Gaiman, Dead Boy Detectives' instigating author, is like that sometimes. Must be a British thing. Charles  Rowland died by murder in 1990, same boarding school, Saint Hilarion's School of Impending Doom and Fagging Studies (okay, yes, I made up that last part), although Edwin did try to help Charles avoid the terminus. Death happened along to collect the two, but both boys decided to hang around awhile and go into business doing detective work for fellow spirits and the living. Boning up on their intended trade by watching old detective movies, and eventually acquiring their private detectives certificate from the Apex Novelty College, they split their time between hanging out in their abandoned treehouse and conducting investigations.
In Volume 1, Schoolboy Terrors, the boys first sqwoosh (or squoosh; the spelling depends on which period of comics you're reading) to the Isle of Dogs to find Twinkle the ghostly cat, but a psychopathic schoolmaster who keeps class in session, forever, runs the boys ragged as they try to escape and end the semester for good. Worse things are waiting for them, with one of those being a return to St. Hilarion's, which has gone completely to hell in their absence (or more completely than originally, that is). This time, however, they're accompanied by a breathing, spirited girl named Crystal Palace, who is determined to unravel the mystery of their deaths while trying to avoid her own.
Crystal's parents are two world-trotting performance artists who love their daughter, kind of, and spend much time away from her, mostly, to pursue their artistic endeavors. Her mom even tattooed her at birth in a fit of creative license. It washed off, so not much harm done, but the paparazzi ate it up and it was a publicity success. Their latest performance sends Crystal to the hospital, where her near-death experience hooks her up with the boys. Soon she's off to St.Hilarion's to tangle with the mysteries surrounding the boys' quietuses, play Yonda with a newfound friend, and survive a power struggle between demons. The spirits of the homicidal seniors who made Edwin's life short and unpleasant pepper the heated action with cutlery and evil determination. The finale involves fire, a mirror, philosophizing cats you really shouldn't follow, a touchingly sad predicament that began in 1888 that leads to an uncomfortable and embarrassing position to be stuck in, and many big words Edwin would use more often if Charles could only understand them.
Toby Litt and Mark Buckingham imbue all these weird situations and magical characters with a young-adult-refusing-to-grow-up attitude, and it's a wonder in itself to watch how different finishers (or inkers to the less comic-geeky among you) bring Buckingham's pencils and layouts to life. Victor Santos is all crisp and tart with his ink pen, while Gary Erskine goes lighter with his lines, allowing colors to lighten scenes. Erskine in tandem with Andrew Pepoy maintains the lightness, but with more accentuation in shadowing, making faces especially reflective of their characters' evil or good intentions. And Russ Braun has that DC Comics house style that harkens back to Silver Age, but with a contemporary overtone. 
Any way you slice it, though, Dead Boy Detectives Volume 1: Schoolboy Terrors is a filling treat to savor.
A courtesy copy for review was provided by DC Comics.