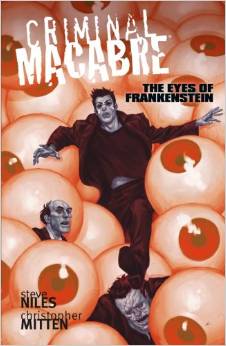 Zombos Says: Very Good
Too many cigarettes, an itchy trigger finger, ghoul's blood, and a vexing inability to get a day off, ever, makes Cal McDonald more surly than usual. Shooting up Mo'Locks gift on wheels wasn't too smart, either. But let's face it, it's McDonald's too-nervous energy and paranoia that keeps us coming back for more dead and deader occult shenanigans. And Steve Niles and Christopher Mitten in The Eyes of Frankenstein do their best to shake them up for McDonald.
In-between chain smoking--how can he afford all those packs of cigarettes?--McDonald's called into the middle of something bad happening to the ghouls. They're dying, for real this time. Tag teaming his attention is Adam, also known as the Frankenstein Monster to those who didn't read the book but did catch the movies. Adam's going blind. Being a heavy reader, that makes him a very angry and destructive monster.
McDonald's quick fix for Adam is a pair of store-bought eye-glasses. With them, Adam can count the number of aspirin McDonald hasn't chewed on yet. But the bigger solution, the one that will tie Adam's failing eyes and the ghouls sudden dying together, requires a lot more effort, and bullets, than McDonald's in the mood for. But he persists in spite of vomiting up the aspirin and alcohol that's not working much for his headaches and annoying tingly sensations. The patented quips and mannerisms are all here as McDonald sucks it up and keeps on going, and the dry wit of Mo'Loch playing against them is drier than ever. 
Not so cut and dried is Jason Hemlock's involvement. Hemlock's the supernatural expert McDonald couldn't care less for, although he's reluctantly teaming up with him for Adam's sake. Which agenda Hemlock eventually puts into play is the question, and McDonald will need to not only find an answer, but also keep breathing at the same time.
Mitten's art vexes me and entertains me. He's quirky, minimalist in panel details and depth, but he gets away with it by keeping the emotion flowing between ghouls, monsters, and one very sore detective with a bad smoking habit. Niles is a minimalist, too, but he keeps the dialog to the point and McDonald able to change direction on a dime once he realizes he's heading the wrong way. If Niles could blast past the 4-issue mark for his usual story arcs, maybe McDonald could work in some much needed vacation as the terrors mount up waiting for him. Or maybe not, given his run of luck. He does have a bad habit of stepping in it both shoes deep even when standing still. Now that takes a certain knack, and Niles and Mitten capture it for us here.