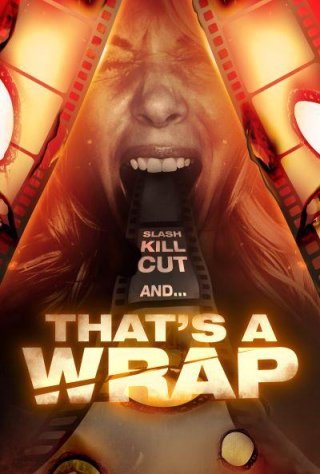 Zombos Says: Poppycock!
Paul Holstenwall, our neighbor and purveyor extraordinaire of bad movies, had brought along That's a Wrap, which launched at FrightFest recently, to show Zombos and me. It had been a while since we were seated comfortably in the cinematorium to watch horror movies, and well, what the hell, I took a chance. Even knowing that Paul, who long-time readers of Zombos' Closet will recall has questionable taste (see one of Paul's misfires here), rarely brings the good stuff.
It had been a long while since I last reviewed a less than stellar endeavor and with IMDb giving this one a 6.7 rating, I felt somewhat safe. I wasn't. I also now know that IMDb ratings don't rate for much. I guess having an extended family, when you're in the business, can be a big help after all. 
"So," asked Paul, "what did you think?" I looked at him. I looked at Zombos. Both stared at me, one beaming with delight, the other just beaming. Like death ray beaming to be precise. I lifted my Lychee French 75 that Chef Machiavelli had heavy-handed with the gin and gulped it down. I confess I held his hand while he poured the gin. I should have held it longer.
Continue reading "That's a Wrap (2023)
Needs More Paper and Tape" »