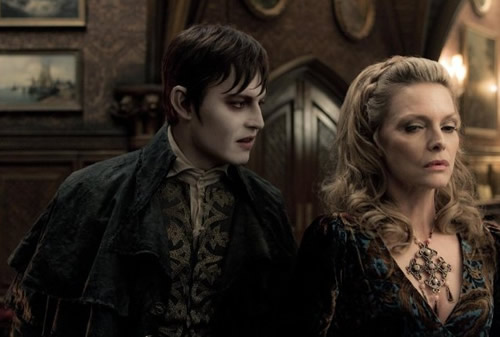 Zombos Says: Fair
Up until that big letter "M" appears on screen (trust me, you can't miss it), Tim Burton and Seth Grahame-Smith's incarnation of Dark Shadows broods deeply in its Gothic sensibility of ill-considered trysting and vengeful witchcraft. Then it falls apart, leaving Johnny Depp's Barnabus Collins a floundering vampire fish out of suitable waters. With strikingly lifeless humor ("gonzo comedy" Burton? Really?), no serious bedevilment to beguile us, no involving supernatural romance to entrance us, and no fully realized characters to relate to, this amalgam of familial oddities and cobbled scenes such as Barnabus carrying an umbrella and wearing dark sunglasses in the sunlight, Barnabus calling Alice Cooper the ugliest woman he's ever seen, Barnabus showing much more energy for revitalizing his family's fishery business instead of wooing the reincarnation of his lost love, Josette DuPres, for whom he had jumped off a cliff to kill himself after she plunged first, and Barnabus mesmerized by a lava lamp filled with bobbing red wax, well, it all amounts to a perfect example of what "stupid creative license" is all about.
The costumes are pretty, the Collinwood Mansion divine--it has more substance than anyone living in it--and Depp's performance is perfectly primed for chilling connivance, but none of these are knitted into a continuous thread: there is no clever campy humor, no attunement to 1970s grooviness, and no seriously despairing cursed vampire to propel the story's purpose. Burton shows us everything but Grahame-Smith tells us nothing. Whatever Gothic horror romance the original television series had in its rich storylines, none of it shows up here. If you're a fan of the original series, you probably won't like this lackluster interpretation; if you're new to Dark Shadows you won't find enough to understand why the original was so important to horror fans and the genre.  Simply put, nothing is added, but much is taken away. 
And then there's the werewolf.
It pops in at the end with a quick explanation, just to spice up the showdown between Barnabus and Angelique (Eva Green). She's the saucy witch who cursed him back in the 1700s because he refused to love her. She's still around, running the Angel Bay Fishery that put the Collins's out of business. Their battle, the movie's ending, is as well envisioned as the movie's beginning, before that big "M" I mentioned before appears, to lead us into the interminable middle portion of churning indecisiveness, wasting the talents of Jackie Earle Haley as Willie Loomis and Bella Heathcote as Victoria Winters. 
The story has Barnabus accidentally dug up and freed from his iron coffin where Angelique entombed him. He makes his way back to Collinwood Manor, after putting the bite on a vanload of hippies, and finds his former home is now rundown and its inhabitants in the same condition. There's matriarch Elizabeth Collins Stoddard (Michelle Pfeiffer) who keeps her knitting in a secret room; Dr. Julia Hoffman (Helena Bonham Carter), who, although she was hired to treat young David Collins' (Gulliver McGrath) delusion of seeing the ghost of his mother, three years later she's a failure and seems to do nothing but drink a lot and sponge off the Collins clan (so I wonder why she's still at Collinwood); Roger Collins (Jonny Lee Miller), is the ne'er-do-well of the family; and tuned-out, groovin' to the music, is Carolyn Stoddard (Chloe Grave Moretz) who hates her family and wants to move to New York just to spite Elizabeth.
Carolyn's the one Barnabus turns to for advice on how to woo Victoria in such modern times (1972). A centuries old vampire seeking advice from an ill-behaved and spoiled girl isn't very funny. She also gives advice on who Barnabus should have for entertainment at his Grand Ball, the event he wants to throw to flaunt the rebirth of Collinwood to the townspeople of Collinsport. She recommends Alice Cooper. Sure, why not? When you've got nothing in the script that works, Alice Cooper's a sure bet to pad some minutes around. 
The money to refurbish Collinwood to its former glory is revealed by Barnabus the night he returns: stairs underneath the fireplace lead through a mirrored passageway to a treasure room. As Barnabus leads the way carrying a lantern, Elizabeth sees the lantern reflected in the mirrors, but not Barnabus. (A similar scene can be found in Mario Bava's Black Sunday.) Realizing Barnabus is actually who he says he is, Elizabeth keeps his secret. The banter he has with the Collins clan when he shows up at breakfast for the first time is as colorless as his pasty face. Dr. Hoffman sobers up enough to become suspicious and hypnotizes Barnabus to learn the truth. Of course, with Barnabus dressed and looking like Nosferatu, it's not a stretch for them or us.
Ghosts do roam the halls of Collinwood Manor.  If only the spirits of Gothic mystery and romance roamed there as well. But there's no ghost of a chance for that in this movie.