Zombos Says: Fair
Zombos was waiting for me to answer him. He'd been away in Europe with the family for most of the summer --the peace and quiet with them gone were my vacation-- and now, with the spirit of Autumn winds soon to rise, he had returned with all his blustery piquance intact. Or maybe it was just too much starch in his collar. My fault.
"I still say it was okay," I reiterated and, ignoring him, continued to write my review. He returned to chewing on his candy corn Oreos and sipping his hot chocolate, making sure to be as noisy as possible just to irritate me.  I focused on my task nonetheless in spite of him.
Speaking of irritation, with five Resident Evil movies bolstering the franchise, I'm surprised each iteration boils down to this: run!, fire guns!, run!, drop-kick!, hustle!, fire bigger guns!, roll!, evade [insert your choice here:  zombies, bad guys, clones, mutants]!, dodge explosions!, run!, walk fast!, run!, say something obvious!, look concerned!, race around in a car!, keep running!, keep firing guns!, and leave off with a boffo ending that promises more than each entry has yet to deliver. Except for maybe next time, since Resident Evil: Retribution leaves off with a boffo ending that squeezes every ounce of CGI mutant mayhem and zombie Armageddon into its dire landscape.
When the ending came I looked at my watch. I couldn't believe the movie had ended. At just under an hour and a half, everything flies by with video game-like music and hustle and bustle, but without the involvement. There are endless fighting rituals with giant axe-wielding mutants, hungry zombies, and clones of people who were characters in the other movie entries. Alice (Milla Jovovich) wields big guns (no metaphor intended: she does wield BIG guns) as always, and she shoots them endlessly as always, and she acts perturbed as always, taking a licking but rebounding as she always does.
And still I find myself coming back for more. Maybe it's my hope the next sequel will break the T-Virus mold and not be homogeneous like its predecessor.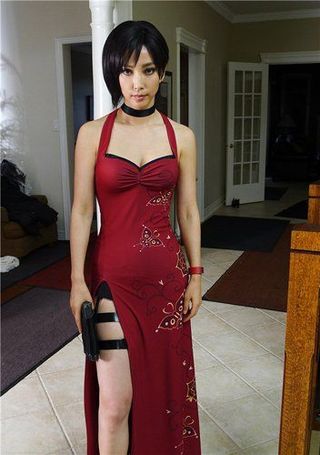 Providing additional eye-candy is Ada Wong (Bingbing Li), who looks and dresses like she's ready to slay, but you will have to watch The Forbidden Kingdom to fully appreciate what she is capable of bringing since it's missing here.
Ada is working for Wesker (Shawn Roberts) as he channels a Max Headroom ambiance in his gloating, floating presence on large monitor screens. Formerly known as Wesker-the-Alice-Hating-Bad-Guy, he's now teaming up with her to save what's left of humanity. (Seeing what's left, I'm not sure why he's going to all the bother.)
Oh, but that's the next movie, sorry, I was getting ahead of myself.
This movie isall about freeing Alice from the nefarious Umbrella Corporation's underwater facility in the Arctic, where they test scenarios of their manufactured virus contagions spreading across populations. There's Tokyo, New York, Moscow, and even suburban-ville, spread out like a super-sized Star Trek: The Next Generation's holodeck.
Paul W. S. Anderson moves Alice across this changing, but recognizable, landscape as she tries to escape it to reach the surface, while a rescue team descends to help her. You know the drill: the rescue team ends up needing rescue by Alice as she takes charge. There's a toss-away submarine-breaking-the-ice-moment--which echoes Ice Station Zebra's climax--but it leads to a drawn out brawl between Alice and a super-charged Rain (Michelle Rodriguez) and Jill (Sienna Guillory). Spot animations highlight broken bones as blows hit home, visual information snippets like you would find in a computer game.
The plot is clever, but everything else is typical Resident Evilmovies' pacing and mayhem. I'm stymied how all this action, noise, and bloodshed doesn't generate the expected tension or intensity it should. There's a definite style to this franchise, but it doesn't hold dramatic weight. The de riguer zombies line up to be knocked down, mutants provide side-tracking annoyances, and the emotional moment when a young girl mistakes Alice for her mother (her mother was an Alice clone) are smoothed over to pave the way for more action which soon numbs our attention given to it.
Anderson's gimmicky opening credit sequence showing the attack on the Arcadia freighter (where the previous movie left us) in slow motion reverse, then normal speed forward, is a good example of why this franchise is always fun to watch but is not yet memorable. Perhaps if he stops playing with the characters and the scenery, and starts playing the game in the next movie, it will be.