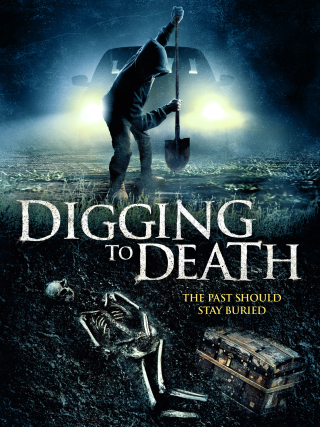 Zombos Says: Good-. Not quite good enough, but worth your attention if you like art house style with your horror or just something different. Add a good wine--a sweet one would be best--and you're aces.
The IMDb rating is 4.8 and Rotten Tomatoes is not on the meter yet due to insufficient reviews for Digging to Death. That is a shame. While the acting is a tad as slow as the pacing, this art house styled entry in psychological horror that wraps itself around the Jungian Shadow of the poor programmer, David (Ford Austin), who finds three million bucks in his back yard is rather engrossing. Sure, you'll watch it thinking it will neatly wrap up the plastic bags (body bags that is) eventually, but it doesn't. And sure, you'll think back and forth on whether he did or he didn't, it was or it wasn't, and who the hell puts in their own septic tank anyway?
The puzzle starts with what's found in the basement. Yes, I know, there's the corpse and the money, but the real puzzle begins in the basement, when he pulls the keys off of the corpse to open the small door in his closet that leads to the basement steps. How did they get there? Who put them there, the corpse guy? It's all sort of like a cart before the horse problem or maybe more like a Japanese-styled horror element of recurring terror like The Grudge. Only you never will quite know, which can be a bummer; but we do know the problem is not just the plastic bag filled with lots of hundred dollar bills. 
More questions arise: was the production budget so lean that they couldn't actually bury the damned box that held the money and the corpse? The corpse, by the way, is makeup-fresh straight out of Carnival of Souls. Wonderful job there and perfect for the tone of this movie. I mean, who sinks a huge box like that, with lots of money and a fairly fresh corpse, so close to the surface? 
Either way, David, who works for Mind Crash, the software game he's managing the programming on, keeps returning to the box and the money and the corpse. It's when he takes a few hundred dollar bills that things start to really sink a lot lower than that box. The corpse apparently wants to break that old adage of not being able to take it with you. David's daughter, Jessica (Rachel Alig), is worried about him after his divorce, and David is more worried about paying for his new home, helping her with her medical bills, and moving up in his long-held job. And he needs to put in the septic tank and finish his software project sooner than later. When that money shows up he was already all over the place mentally. The money just moves him more into all over and further from a mentally safe place. 
Let's be clear about one thing up front. This is not a horror-comedy. There are some black comedy bits tossed in, some social commentary about working your ass off for a job that only cares about what you did for them in the last hour, and how really annoying it is when you just want to spend a lot of hot hundred dollar bills and even the bank says to open a trust fund or the feds will wonder where all the cash came from. Oh, and that corpse (Tom Fitzpatrick) that keeps showing up, who turns out to be more lively than David, makes digging a septic tank a cakewalk. 
Being a geek, David fights back with tech. But is he fighting an ambulatory corpse wanting its money back or is he fighting himself? Or both? Depending on how you look at it, the ending scene either puts this movie firmly into The Grudge or the shadow territory. Either Michael P. Blevins, the writer and director doesn't write good screenplays, didn't have enough money to show us everything, or he is showing us just enough to keep it vague or abundantly clear (unless you're a horror buff overthinking everything), I can't say with certainty. 
But I do like horror movies that make me think this much about their stories. I hope you find it as engagingly puzzling as I do.