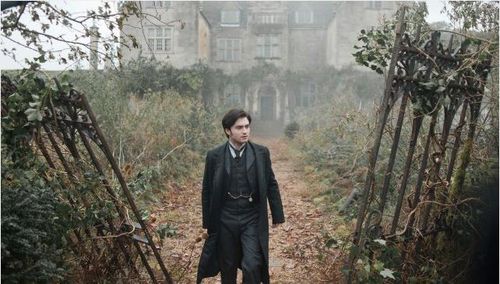 Zombos Says: Very Good
Hammer Film Production's return to period supernatural horror is a strongly rendered traditional ghost story set in Britain's Edwardian time. While not as scary as Robert Wise's The Haunting, or as surprisingly twisting as John Hough's The Legend of Hell House, director Jack Watkins conjures cheerless environs, a foreboding decaying mansion, and a pervasive malevolence poised to strike, in this adaptation of Susan Hill's novel. Most striking are the period sets; I kept fancying Peter Cushing and Christopher Lee would tumble out of a room at any moment with Lee baring his vampire fangs and Cushing crossing two iron candle sticks together.
The oppressive atmosphere of London's oily, sooty fog, changes to the oppressive dreariness felt when Arthur Kipps (Daniel Radcliffe) arrives at Crythin Gifford, a small town of frightened adults beset by a vengeful spirit murdering their children. Kipps, a lawyer still grieving from the loss of his wife, with a son to support and a job in jeapardy, is tasked with settling the immense amount of paperwork left behind by the late Mrs. Drablow of Eel Marsh House. The desolate house is only reachable by Nine Lives Causeway, a long stretch of road that, at certain points, becomes submerged under water during high tide. Surrounding the causeway are marshes filled with impassable, dark, viscous muck, and impenetrable fog.
At Eel Marsh House, Kipps finds Victorian stuffed monkeys, dusty tapestries and faded carpeting, creaking floorboards, thick cobwebs, peeling wallpaper, and lots of papers to go through. The phantom sounds of a carriage accident and cries in the fog, as well as seeing a mysterious figure of a woman dressed in black, put him on edge. Tragedy soon follows and the villagers want him to leave, except for Sam Daily (Ciaran Hinds), a wealthy landowner with the only car (a Rolls Royce Silver Ghost) for miles around. Invited to dinner by Daily, Kipps learns that Sam and his wife (Janet McTeer), have lost their son when Mrs. Daily enters an automatic writing trance she says is her son's way of communicating with her.
Kipps decides to spend the night at Eel Marsh House to finish his business. Sam lends his dog to Kipps for company. The Woman in Black makes sure he and the dog don't get much sleep. Apparitions, ghostly wet footprints, a very disquieting nursery, and the revealing letters Kipps discovers in a window bench keep his attention, and his wits, alert. The next morning more tragedy strikes, and worse still, Kipps learns his son and nanny are coming to Crythin Gifford and he can't stop them.
The ending of Watkin's movie is not the same as the novel, so devout readers of Susan Hill's work may be surprised. Daniel Radcliffe is superb as Arthur Kipps. The wind-up toy animals, monkees, and clowns in the nursery are quite creepy. The story has an atmosphere Ti West can only dream of. It isn't in 3D.
And as for Hammer Film Productions, you can rest assured that Hammer Horror is back with a vengeance.