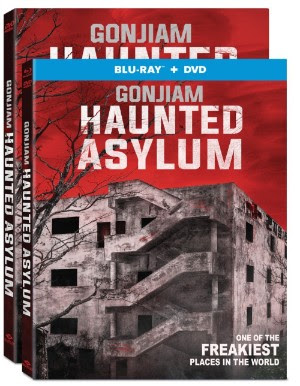 Gonjiam: Haunted Asylum arrives on DVD/Blu-ray September 18th, 2018. Here's the neatly pressed info for you for this South Korean horror. I like haunted asylum ghost stories, but found-footage, not so much. But I'll still catch it and let you know how it goes.
News Flash! – The crew of a horror web series travels to an abandoned asylum for a live broadcast. They soon encounter much more than expected as they move deeper inside the nightmarish old building in the horror  thriller GONJIAM: HAUNTED ASYLUM, terrorizing on digital, Blu-ray™ Combo Pack and DVD September 18 from Well Go USA Entertainment. An updated take on the "found footage" genre of thrillers, Director Jung Bum-Shik (Epitaph, Horror Stories) assembled a cast of mostly newcomers for GONJIAM: HAUNTED ASYLUM, including Wi Ha-Jun, Park Sung-Hun, Lee Seung-Wook, Oh Ah-Yeon, Park Ji-Hyun, Yoo Je-Yoon and Mun Ye-Won.
 
The Story: 
Based on the local legends and stories of people who've visited the real-life abandoned hospital, GONJIAM: HAUNTED ASYLUM follows the crew of a horror web show who plan to stream live from inside the asylum. To attract more viewers, the show's host arranges some scares for the team, but as they move further into the nightmarish old building, they begin to encounter much more than expected.