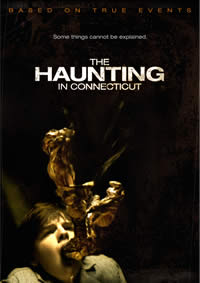 Since its inception in the field of spiritualism, the concept of ectoplasm has escaped to become a staple in popular culture and fictional supernatural lore. Notable examples include Noel Coward's 1941 play Blithe Spirit, and the 1984 film Ghostbusters, in which "ectoplasmic residue" secreted by ghosts is portrayed as viscous, cloudy and greenish-white, similar to nasal mucus, famously referred to in Bill Murray's lines "Your mucous", and "He slimed me!" (Wikipedia).
Zombos Says: Good
Right before I drove to the theater last night, to watch a late showing of The Haunting in Connecticut, a lightning storm sparkled and boomed through Westbury, dropping pea-sized hail and fat raindrops by the bucketful. Perfectly horrid weather for, as it turned out, a not so perfect horror movie. While director Peter Cornwell and writers did manage to startle me twice, The Haunting in Connecticut has more in common with Tobe Hooper's energetic spookfest Poltergeist than the lingering, atmospheric scares in Lewis Allen's The Uninvited or Robert Wise's The Haunting, but not enough in common to make it as good.
The Snedeker family's travails with a reportedly true-life demonic haunting in Southington, Connecticut have been documented (I'll leave it up to you if you'd like to put quotes around documented or not) in an episode of A Haunting, which aired on the Discovery Channel, and in Ray Garton's book, In A Dark Place. Taking the cheerless funeral home ambiance and malevolent presence aspects of their paranormal experience, the movie embellishes it with necromancy, runic magic, angry earthbound spirits (earthbound spirits in horror movies always seem to be angry), and spiritualism. This backstory, involving seances run by the sinister Dr. Aickman and his reluctant medium, Jonah, would have made a more effective and terrifying movie entirely on its own.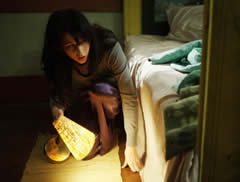 After long car trips for an experimental treatment regimen at a distant hospital take their emotional toll on Matt Campbell (Kyle Gallner) and his mother, Sara (Virginia Madsen), she decides to move the Campbell family closer to the hospital and rents a large old house for a surprisingly cheap sum. Not so surprising, as it turns out, after they discover an embalming room in the basement that still contains tools of the trade. The door to the room is frozen shut, but after Kyle decides to make the basement his bedroom, he becomes increasingly drawn to what lies behind it.
He also begins to see things no one else does. At first, his nightmarish hallucinations may be due to his medical treatments, but this ambiguity is quickly eliminated when Kyle's younger brother, Billy (Ty Wood), is badly frightened during a game of hide and go seek. Puzzling information regarding the house's prior history is soon unearthed from the floorboards, including post mortem photographs. With the help of his sister (or niece, I forget) Mary (Sophi Knight), who is a whiz at library research, the history of the house's former owner, Dr. Aickman, and his occupation with both the living and deceased, comes to light. Seances were held, ectoplasm was formed, and spirits shook more than just tambourines and bells. Something went horribly wrong during one particular seance and people were turned into toast. Oh, and there is the mystery of where twenty or so cadavers eventually wound up because their gravesites were later found to be empty (a hint here for those of you who saw Poltergeist).
Kyle enlists the aid of a fellow patient, Nicholas (Elias Koteas), who is a reverend. Both uncover the nature of the haunting, but Nicholas makes a mistake that can cost Kyle, and his family, their lives when he removes Jonah's remains from the house.
The suitably melodramatic music by Robert Kral is very well done, but very overly used by Cornwell, who seems unable to show an apparition in reflection or head on without strident cords peaking loudly. Subtlety is not yet his forte. A few obvious false scares, a seat-squirming eyelid clipping closeup, and a very thoughtful--and surprising--use of shadow-birds fluttering wildly about are interspersed between Kyle's worsening condition, his father's difficulty in coping with his dying son, and his mother who cannot seem to grasp the urgency of getting out of the damned house fast enough, in spite of all the weird noises, dismally dark hallways, flickering lights, creepy memento mori photos, and moldy, disfigured ghosts popping up. Incredulously, after one particularly unnerving session of ghost-to-ghost broadcasting, everyone goes back to sleep in their own rooms. By themselves. Alone. I shook my head in disbelief.