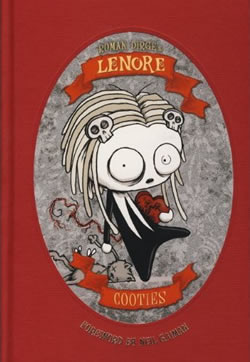 . ZC Rating: 5 of 7  (Excellent)
Lenore, the cute little dead girl, springs to vivid life, in full color, in Cooties. This Titan Books hardcovered, colorized edition of Roman Dirge's comic book series collects issues 9 through 12. Here's how I can best describe Dirge's misadventures for his adorable, rotten-stuffin', googly-eyed waif.
What if Dennis the Menace were a girl living next door to the Addams Family? He'd be, she'd be Lenore.
What if Eddie Munster had an incredible two-headed transplant with Dennis the Menace and dressed like Wednesday from the Addams Family? He'd, they'd be Lenore.
What if the Brady Bunch and the Beeve--after spending summer vacation at 1313 Mockingbird Lane-- went through an ion storm filled with screwed up cosmic rays, while locked in the trunk of the Jupiter 2, that was being towed at sub-warp speed by the U.S.S Enterprise NCC-1701, which was being trapped by a Tholian Web? They'd be Lenore's friends.
What if you read this book and didn't find it funny as hell in that morbid, cockamamie sick sense of humor way horror fans tend to exhibit? Impossible.
Lenore's endearing charm, even if worms are boring through her cranium now and then, and she surrounds herself with festering friends, comes from her irresistible, child-like sense of what's most important: like leaving the afterlife because it's itchy and smells a lot like Fritos and making a death mask for fun.
In Cooties, her friends, who (gramma' nazis, feel free to insert whom here) wear more than clothes, dig her up, which leads to Pooty the bounty hunter--aside from being little, I can't make heads or tails what he is--being sent to bring her back to the afterlife. Much mayhem ensues as he fails in his mission, causing a slubby netherworld army to be sent instead. Of course, with Lenore, much mayhem ensues daily anyway.
In-between this continuing turmoil, Dirge tosses in a few heaping helpings of grue like Pop Goes the Weasel (the weasel does, really), and his own strange encounter with a talking urinal in Japan (believe me, I know, I've been there). Copious pin-ups, issue covers, and I-can't-believe-he-actually-did-that moments stretch the boundaries of good taste and decorum. Dirge will spare no cliche, no oft-turned phrase, no sordid joke or crass visceral visual to make Lenore as banana ripe and cheeky as the day before she died.
Neil Gaiman supplies the foreword. He's strange, too.
Titan Books supplied a courtesy copy for this review. I already have the black and white comic book issues, though, so this is icing on the cake, for sure.