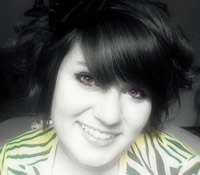 Many fans of horror, amateur and professional alike, have devoted themselves to blogging about the thrills, chills, and no-frills side of the genre as seen in cinema and print. In this ongoing series that highlights the writers behind the blogs, we meet the unique personalities and talents that make the online horror scene so engaging. Up close and personal.
In this installment, League of Tana Tea Drinkers' member Brittney-Jade Colangelo of Day of the Woman brings a youthful approach to an old genre.
Horror has always been a huge part of my life. Before Kindergarten I was a Craven Crusader, I had conquered Carpenter, and I bellowed with laughter at Barker. My mother introduced me to the films at a young age, but my father brought me into the horror culture. My parents also used to run the haunted hayride for our community.
People from all over would come to our town to experience the terror that my family would provide. While it would drive down creepy trails and scary wooded areas, my parents were lurking. My father may have been the big man in the hockey mask that jumped on top of the ride towards the end, but my mother was Pamela Voorhees. She was a woman dressed in the hockey mask at the beginning of the ride. Sort of a symbol for the terror that was about to come. In my opinion, it was brilliant.
My mother also chose a babysitter for me who shared a love of horror. I had a babysitter named Jillian who LOVED horror films. She would come over to watch me for the evening while my parents went out galavanting and she would come over with bundles of horror films. While most parents would probably freak out, my mom encouraged it! We even had a night where all the neighborhood kids came by and we watched Sleepaway Camp. Knowing it would scare us sheetless, it lead to an up all night party of ghost stories shared by not only the children and the babysitter...but my parents as well.
Continue reading "Meet the Horror Bloggers:
Day of the Woman" »