You don't quite look ready for six feet of cold dirt and hungry worms yet. And I ought to rest a spell, because I got a feeling business is going to be booming directly. So how's about a little story? Just to pass the time (The Digger, Dirt 1)
Scott Nicholson pens the stories for Dirt, the six-issue series from Post Mortem Studios. If you have read Nicholson's short story, The Shaping, in Unspeakable Horror: From the Shadows of the Closet, you already know how he can take a familiar scenario and suddenly veer off in an unexpected and unnerving direction that leaves a chill on your neck or a butterfly in your stomach. Will he be able to capture his terse, poetic, sentence rhythm and narrative point of view within the confining panels and commercially dictated page count of the modern comic book format? Certainly, his penchant for second-person narration provides a natural bridge to using the horror host-styled delivery of story-telling.
For horror comic book fans there is nothing as familiar as the mysterious, often imperious, host introducing each illustrated vignette. Either undead, alive, moldy or loathly, the host helps keep things personal through his or her lively quips and sometimes sardonic observations on the bizarre goings-on and strained social entanglements presented in each story. With Nicholson's North Carolina country-twang writing sensibility potentially loading the shovel-fulls of terror, something unique happening between the panels is possible here as his host, The Digger, turns up each story for us and pats it tightly down when done. Unfortunately, The Digger must have hit pay dirt and quit his day job because, after his appearance in all three stories of issue one, he only appears on the cover of issue two and two panels inside.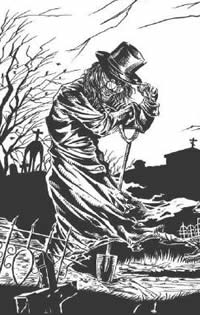 In issue one, the pencils, inks, and lettering of Kewber bring Nicholson's horror host to life. He seems amiable enough, though you probably would not invite him to any barbecues. Maybe a Halloween party or two.
We first meet up with the planter of dead folk on a breezy afternoon, just when he has some time to kill. Kewber's black and white artwork seems rushed and is not as sure and stylish as his work in issue two, but Nicholson's straightforward narrative helps keep panel compositions uncomplicated. Kewber's panel arrangement across pages is  frenetic. He uses an array of panel sizes, shapes, and margins, and adds borders to some panels while leaving others borderless. His application of these techniques for creating tempo and mood seem overly done, but each page flows easily. In The Christening and Timing Chains of the Heart, his energetic panel layouts play against a black background. For Carnival Knowledge, rough pencil sketches are used, separated only by narration bubbles, on a white background.
The Christening, which revolves around birth, death, and a phantom child yearning for home, loses much of the original story's expressive wordplay , but Nicholson captures the essence of the Stamey family's persistence in the few pages allotted. Timing Chains of the Heart is a tale of a love for a car that becomes obsession leading to perdition on the open highway for one lost soul. It contains elements from The Phantom Coach by Amelia Edwards.
I would have preferred Carnival Knowledge fleshed out into a more traditional comic book story. It is the most grotesquely intriguing story in the issue, and one of Nicholson's most disturbing narratives. Is the carnival geek human? Sure. But is he alive, dead, or something in-between? Sure. This creepy vignette, with its zombie-geek feeding on himself, as the crowd feeds on his torment, is deeper than it appears; or at least it provides ample room for interpretation and discussion--like a George Romero movie. In a slight departure from the original story, Nicholson has The Digger filling in for the geek's "promoter," and therefore his chief exploiter. I found this disconcerting: it works against The Digger's sardonic but amiable character that Nicholson establishes in the other stories (although, as I recall, Cain could be pretty naughty and murderous at times in The House of Mystery series).
In issue two, Kewber and Nicholson hit their stride, melding artwork and narrative into three  effective stories centering around ungodly zombies, bad luck, and angelic vengeance. Kewber, pushing his page layout to the extreme, stylishly adds details, drawn against alternating white and black backgrounds, but this time using black lines and shading in his characters to greater advantage than he did in issue one. Think Creepy and Eerie magazines and you will have a good sense of the artwork and story tone in this issue. The dialog and narrative bubbles are well positioned within and across panels, giving more breadth to Nicholson's words without obscuring the artwork.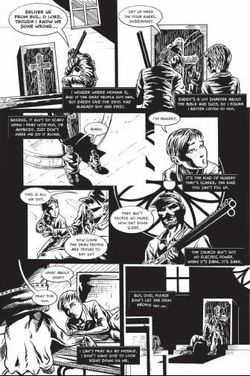 The young boy narrating the evocative You'll Never Walk Alone (from The Book of Final Flesh, 2003) has to deal with the gray folk hungering outside, and his dad who, with shotgun in hand, hungers for the lord's safety by locking themselves in a church. It is short and sweet and sour as it ends on a macabre note.
For Dumb Luck, the mother of all chain letters hits the man who has it all in Hollywood. When he decides to ignore it, well, the title says it all. The Digger could have acted like Rod Serling here, given the tone of the story, but he only pokes his head in briefly to introduce the soon to be unlucky Amman Ibn Mahmoul. Kewber borders his panels almost like jigsaw puzzle pieces on the page, and he easily captures the mounting frustration of Mahmoud as his perfect life perfectly explodes.
The last story, the 3-page Second Chances, is a powerful, even if short, exploration of an angel's dislike for others' second chances. Small panels shuffle around larger ones, and the narrative fills almost every panel to tell the story, which hints at some very interesting backstory and future episodes if Nicholson is so inclined.
It is not often I look forward to reading independent comics. Too often the artwork, or sometimes the story, or, even worse, both, are abysmal and unreadable. Dirt easily surmounts these obstacles. Nicholson and Kewber are a perfect match. I look forward to reading the next four issues of the series.
Check out Scott Nicholson's short story collection Scattered Ashes.