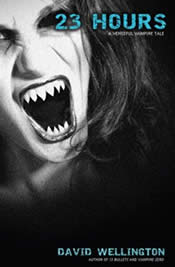 Zombos Says: Good
Knives. Always with the knives. Half-deads loved knives, hatchets, cleavers, anything sharp. This was a hunting knife, six inches long and painted green--so the white-tailed deer wouldn't see it glint when you pulled it out in the woods--and had a nasty serrated edge and a wicked curved point. The half-dead brandished it with obvious pleasure and stepped inside the cell.
Laura Caxton, David Wellington's vampire-hunting Special Subjects Unit agent, is neck-deep in it again in 23 Hours: A Vengeful Vampire Tale. Not only is her vengeful nemesis Justinia Malvern, the world's oldest vampire (with decrepitude to match her age), looking to put the bite on her for good, she also has to deal with being locked up in maximum security while dozens of half-deads, those killed by Malvern and revitalized to do her bidding, take over the penitentiary. Complicating things further, Clara Hsu, Caxton's lover, turns up just in time to become a hostage, and persausive bargaining chip, for Malvern. With a jailhouse cliffhanger-styled pace and Caxton backed up against all four walls with only the questionable help from her stimulant-loving celly, Gert, the situation moves from bad to worse and then really bad.
Wellington's preamble wastes little time before mixing it up from page one. Caxton is reluctantly pulled into a discussion of the local pecking order by Guilty Jen, a martial arts trained gangbanger with a mean side kick. After Guilty Jen and her cronies receive some nasty topical points of contention from Caxton, the fight is broken up and Caxton is moved to special housing for her trouble. Meanwhile, Clara Hsu, Caxton's love interest, is knee-deep in the aftermath of a Tupperware Party that was crashed by Malvern, and torn between ending their relationship or hanging onto it as best she can.
She was surrounded by bodies, corpses, drained of their blood and then discarded like old ragged dolls. The women around her ranged in age from thirty-five to fifty, but with some it was hard to tell--their arms and throats had been torn at, savaged by vicious teeth, by a vampire who needed their blood and didn't care how much pain she had to cause to get it.
Twilight this is not. Wellington prefer's his vampires to be mean, armed with rows of sharp teeth, disposed to be very inconsiderate of the living, and gives them decrepit, zombie-like henchmen, the half-deads--who love to tear their faces off and fondle knives--to do all the heavy lifting. Not that Malvern is averse to sticking her thumb deeply into an eye socket or two when she cares to, but due to her age, she could use all the help and blood she can get. Spouting quaint T'is's and Ye's with a deceptive and condescending gentility, Malvern exploits the prison population to supply her with the large amount of blood she needs to replenish her faded good looks. In Wellington's vampire universe, vampires age badly and need more and more blood to bring them back to health. Malvern is the antithesis of Rice's Lestat; at her age of 300 plus years, she's moody, mug-ugly--patches of boney white shine through her parchment skin--and enjoys every minute of pursuing her sadistic needs; no crisis of conscience or philosophical discussions for her. Not a one. And she is very thirsty.
This time around, she has enlisted the aid of the prison warden, Augie Bellows. As the novel's chapters quickly alternate between Caxton's fight against the half-dead army Malvern has sent to find her, and Clara's visit and subsequent captivity by the warden, Wellington writes tight, no-frills, sentences and lots of action. Do not look for characters with deep thoughts here or flowery descriptions. In the best tradition of the pulp writer, Wellington locks you into the cell with Caxton, forces you to watch her back as she fights against the odds, and makes you wonder what Caxton will find next, waiting for her around the next corner, and how she will handle it.
Malvern has given her only twenty-three hours to surrender or try freeing Clara; after that, Clara's confusion over whether she should break up with Caxton will be a moot point: Clara will be dead.