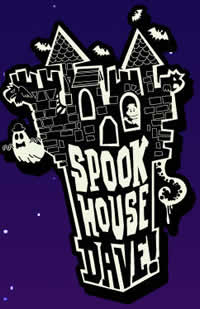 There's a new kid in the castle!

There is a far-off land called "Pennsylvania." And somewhere in this utterly dark and terrifying place, it is said there sits a magnificent granite peak. Its name: Mount Savage.


Now, on the very, very tippy top of this Mount Savage, lurching over a small burg of the same name, it is also said there exists a haunted castle that has stood there for as long as anyone can recall. According to the legend, inside of this castle, there lives a brood of monsters who all mix and mingle together under the same roof, sharing rent and the occasional meal.

This hodgepodge of a vampire, a witch, a werewolf, a mummy and a Frankenstein are said to keep to themselves mostly, and seem to enjoy as little contact as possible with regular folk. Except for one particular young boy named Dave.
Dave's first adventure is a funny romp through the castle to find his backpack. As long as he doesn't mention the word "school" to Bobo, the Frankenstein Monster, he should be okay. And hopefully he won't have to spend too much time with Old Pharris the Mummy, who can really bend your ear with his endless reminiscences. He has been around a long time, you know. Oh, and Dave should be careful if Hagatha the Witch offers to help him find his backpack. Her spells tend not to work out very well, though she does try her best.
Meet the entire spook house monster family.