This interview conducted by Professor Kinema (Jim Knusch) with actor Jeff Morrow originally appeared in Psychotronic Video magazine (Fall, 1993). Professor Kinema expands on his article for Zombos' Closet.
Jeff Morrow's film career began with the substantial role of Paulus, a Roman centurian, in the 20th Century Fox CinemaScope epic The Robe in 1953. He introduces Richard Burton to the Roman outpost in Jerusalem, calling it "the worst slime hole in the Empire." He is also one of the soldiers who casts lots for Jesus's robe, and he eventually has a sword fight with the star.
The Robe was the first Fox production to be released with the label In CinemaScope (also Technicolor and 4-track stereo). Various wide screen techniques had been experimented with since the early days of cinema. CinemaScope was Fox's trade name for an anamorphic wide screen process based on Henri Chretien's 1926 Anamorphoscope, which used an optical system called Hypergonar. A few early Fox films utilized what was then called Fox Grandeur, a 70mm anamorphic process. 1929's Fox Movietone Follies  was one of them.  According to Guinness Film Facts and Feats by Patrick Robertson, although Follies was lensed in 70mm Fox Grandeur, it was released in conventional frame format. John Wayne's The Big Trail (1930), and Happy Days (1930), Betty Grable's first screen appearance, were also released in Fox Grandeur wide screen. 
Very few studios had experimented with wide screen formats. At the time, since there really wasn't a financially sound reason to continue with the added expense of filming in wide screen, experimentation stopped as normal screen dimensions were deemed adequate. In the early 1950s the threat of television began reducing theater attendance and Fox execs took the wide screen format off the shelf, dusted it off, and re-introduced it in an effort to lure movie-goers from their living rooms back into the theater.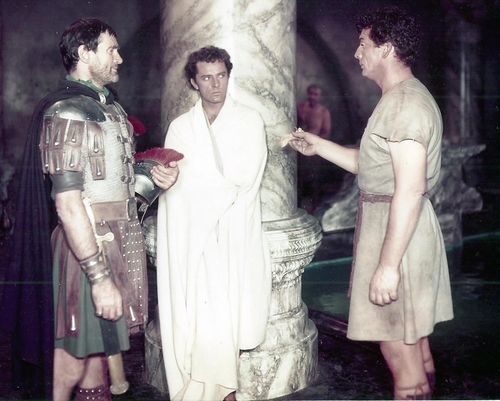 The first 20th Century Fox production to actually finish production in CinemaScope (and also Technicolor and 4-track sound) was How to Marry a Millionaire. However, it was decided that instead of displaying the ample physical dimensions of Marilyn Monroe, Betty Grable, and Lauren Bacall in this new process, a more down to earth--and family friendly--biblical story was chosen instead to highlight it. The Robe had its very publicized world premier at the Roxy Theater in NYC on September 16, 1953. Formal dress was required. Two personalized tickets, a theater program and souvenir booklet for the event are in the Kinema Archives (one of these tickets is shown at the beginning of this article). The Robe was the first CinemaScope production to be nominated for an Oscar, but lost out to From Here to Eternity. Fox was so sure The Robe would be a hit they started filming the sequel, Demetrious and the Gladiators (with Victor Mature, Michael Rennie, and Jay Robinson) before post production of The Robe was completed.
The Jeff Morrow Interview (continued)
 PK: What are your recollections of working on The Robe  and those you worked with in front of as well as behind the camera?
Jeff: I was required to have a 5-day unshaven beard and wear bulky armor. Henry Koster, the director, was pleasant to work with. I admired Richard Burton as an actor. He also had extensive stage experience. Of the scenes I had with him I mostly remember the sword fight. Wearing bulky armor naturally made it difficult. I felt that it was lively and well done.
PK: And it did get notice?
Jeff: Yes, that's right.
PK: What are your recollections of working in CinemaScope?
Jeff: The decision to shoot in CinemaScope happened after the casting and costume fitting. Consequently, to make the necessary changeovers in set design, lighting, and in other technical areas, it caused a delay of three weeks. Of course, we all stayed on salary, since actors were paid that way in those years with very few exceptions. The schedule stretched to 10 to 11 weeks of shooting. Being in what was the premier wide screen production (also in Technicolor as well as 4-track stereo) generated much excitement in all of us. Even though I was coming to Hollywood from the stage, I was aware that the individual setups did take a bit longer than they would have taken. We were all aware of the fact that The Robe would cause a lot of attention for those who were appearing in it.
To me the outstanding character was Jay Robinson as Caligula. I'll never forget him. Yes, he acted eccentrically. One day while having lunch in the studio commisary, Jay went to a table that he had been sitting at for several days. This day, one of the 20th Century Fox studio execs was sitting in what he considered his seat. Well, Jay, in his costume as Caligula, ranted and raved about him sitting there. He made such a fuss and caused a totally stunned movie exec to move to another table. The exec could not believe that someone would dare shout orders at him. In this case, it was a Roman emperor.