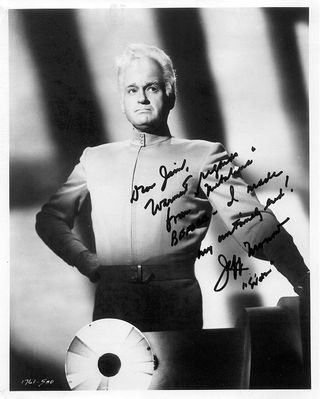 by Professor Kinema
This interview conducted by Professor Kinema (Jim Knusch) with actor Jeff Morrow originally appeared in Psychotronic Video magazine (Fall, 1993). Professor Kinema expands on his article for Zombos' Closet.
While most cinematic alien visitors from the Cosmos pay us a visit to conquer Earth, issue some sort of ultimatum for peace, or in some way threaten to do us harm, Exeter, instead emerged as a true hero in This Island Earth. His uniquely altruistic qualities were infused into his character by the very earthbound actor Jeff Morrow.

Morrow was originally from New York City where he was born Leslie Irving Morrow in 1913. He went to Pratt Institute and worked as a commercial illustrator to pay for drama school. He started acting on stage, in Pennsylvania, as early as 1927, and made his Broadway debut under the name Irving Morrow in 1936's Romeo and Juliet (he played Tybalt).
His other 23 stage roles were for Billy Budd, Across the Board, Three Wishes For Jamie, Candida, MacBeth (as Banquo with Maurice Evans and Judith Anderson), Saint Joan (with Kronos co-star John Emery), Lady From the Sea, What a Life, Penal Law, Once in a Lifetime, A Midsummer Night's Dream, and Twelfth Night. He shared the limelight with Dennis King, Eddie Bracken, Edith Evans, Katharine Cornell, Katharine Hepburn, Luise Rainer, Mae West, Torin Thatcher, Eli Wallach, Ralph Richardson, Basil Rathbone, Brian Ahern, and many others.
According to the souvenir booklet for The Robe, Morrow had appeared in 200 TV shows as well as being heard on 2000 radio programs before he made the journey to Hollywood. For two years he was heard as the voice of Dick Tracy. In all, he appeared in 23 films. Some were memorable like Flight to Tangiers, The Sign of the Pagan, Tanganyika, and Hour of Decision; and a few that, in his words, were "best forgotten:" The Siege at Red River, Copper Sky, Harbor Lights. There was one comedy, Pardners (with Dean Martin and Jerry Lewis).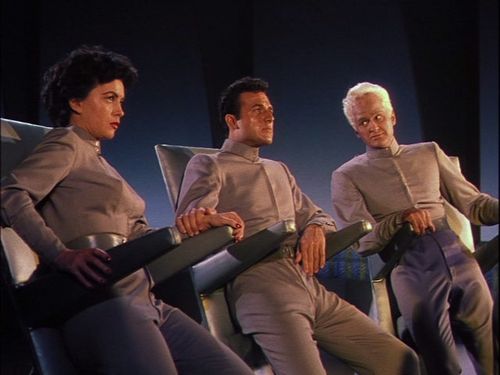 Of special interest to science fiction fans are the select genre films he appeared in like This Island Earth, Kronos, The Creature Walks Among Us, and the not so memorable The Giant Claw, Legacy of Blood, and Octaman. On the small screen he starred in Union Pacific, appeared as a regular on The New Temperatures Rising, had notable roles on Daniel Boone, The Name of the Game, Perry Mason, The Virginian, Judd For the Defense, Sarge, Iron Horse, Wagon Train, Bonanza, GE Theater, Philco, Studio One, one very memorable episode of original Twilight Zone and another on the later revival of The Twilight Zone.
At the time of this interview (early 1993) he resided in Encino, California with his wife, former actress Anna Karen. His daughter, Lissa Megan Morrow, was a free-lance sportswriter. In these latter years he worked as a commercial illustrator while taking occasional acting assignments. To occupy in-between time he and his wife dabbled in Real Estate. After one introductory phone call we spoke for 90 minutes. The entire interview was recorded on an audiocassette which is now in the Kinema Archives. Afterwards I sent photographs to him, from my collection, for his autograph. When the envelope returned, a few extras from his own collection were included among them.
A transcript of the highlights of this interview, plus an article embellishment, was submitted to Mike Weldon, editor of Psychotronic Video magazine. After its publication, Jeff Morrow passed away, on December 26, 1993. Mike Weldon and I determined that this was the last interview Jeff Morrow did before he his death.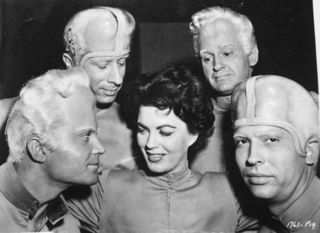 The article was received well by readers of Psychotronic Video magazine, with one minor exception: Bill "Keep Watching the Skies" Warren sent in a letter with a small detail he considered important enough to mention. In the article, regarding This Island Earth, I said how the original story developed from 3 stories originally published in 3 issues of Thrilling Wonder Stories, and how they morphed into a novelization for This Island Earth. Warren disagreed, and stated that what resulted was not a novelization. Mr. Warren is incorrect in his assessment.
In the This Island Earth Universal Filmscripts Series there is an essay by Forrest J. Ackerman titled I Never Met a Luna Mutant I Didn't Like. In it he states how he was the literary agent for Raymond F. Jones and how he was involved with the publication of the novel of This Island Earth, which combined the three pulp stories. He goes on to mention that a publisher in Germany published the novelization (Ackerman's term) by Walter Ernsting.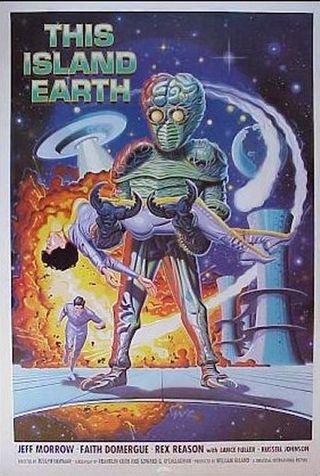 The entry on Wikipedia concerning the This Island Earth novel contains the publishing history, listing four editions in all: the first novel was published in 1952; the German paperback edition in 1956 (the year after the release of the film); and two more paperback editions were published in 1991 and 1999. The 1999 version is a Forrest J. Ackerman Presents paperback reprinting the 1952 novel. An illustration of Jeff Morrow as Exeter adorns the cover. On the Amazon webpage, where copies of this book are offered for sale, readers comment on the original novel. It is referred to as a novelization.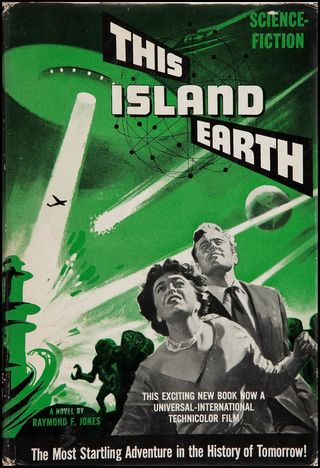 At the end of his reworked entry on This Island Earth, in his 21st edition of Keep Watching the Skies, Warren states that the first published novel is a "fixup" (his term) of the three Raymond F. Jones stories. I am not sure what he means by "fixup." I have not seen any research into the history of published works where the term "fixup" is used in this regard.
So, I'll just say that my reworked and expanded articles on Jeff Morrow that will be appearing here are "fixups" and call it a day.
The Jeff Morrow Interview Conducted by Professor Kinema
PK: I must mention the fact that I am pleased to be conducting an interview with possibly the second most famous movie alien of the Fantastic Cinema of the 1950s. Exeter of This Island Earth ranks right up there next to Michael Rennie's Klaatu of The Day the Earth Stood Still. If there was ever an Alien Hall of Fame your Exeter would definitely be part of it.
Jeff: (laughs) Well, I'm flattered. I didn't realize that. I know of all the fan mail that I've received, the bulk of it has been from those remembering This Island Earth.
PK: Just as a matter of record, in Forrest J. Ackerman's Spacemen magazine, Exeter was paid a tribute of sorts. In issue #5 (October 1962) he was declared 'Spaceman of Distinction #2'. I believe that this was the only movie alien so mentioned in the magazine's short run. But your screen career began several years before, after years of distinguished stage experience?
Jeff: Yes, that was The Robe in 1953.