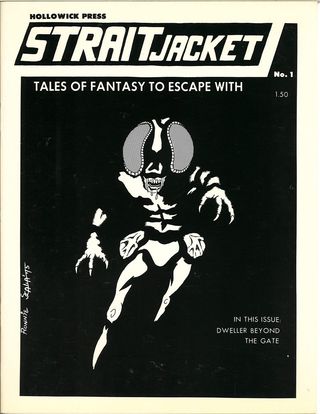 I recently reorganized my library and came across this fanzine I almost started when I was 19 . I say almost because after printing up the first issue of Straitjacket: Tales of Fantasy to Escape With, Phil Seuling's assessment of it made me tuck my tail between my legs and hide the issue.
He avoided me as long as he could at the 1975 Comic Art Convention in New York City, but I finally pinned him down. He didn't want to hurt my feelings, but he also was a professional and told me why my little endeavor wasn't very professional. After doing all that mechanical paste up and typing on a borrowed clunker's rigid keys to put it together, I didn't put up much of a fight. He was right. He was a good friend.
But for posterity, here's the first story I ever wrote, the Waters From Merom. I think I've gotten better, but when I get up enough courage to actually send out my recent work, I'm sure I'll find out one way or the other. My story appeared in another fanzine around that time, though I can't think of its name.  Lovecraft was and still is a heavy influence on me.
Just don't forget I was 19 at the time and it's my first story. I can't take any more criticism right now. Don't even bother asking about my pseudonym. My mind's drawing a blank on that one.