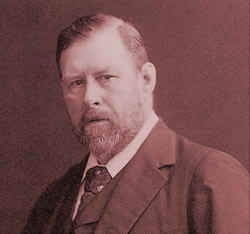 Graveside visit by Professor Kinema
On a shelf in the East Columbarium, in Golder's Green Crematorium (in Greater London), sits an urn containing the cremains of Bram Stoker. Also contained in the urn are the ashes of his only child, son Noel Thornley Stoker.
Bram's birth and death dates are listed (8 November, 1847-20 April, 1912) while only his son's departure date is listed (16 September, 1961). Some sources list his son's name as Irving Noel Stoker. It was planned that when his wife, Florence, departed in 1937, her ashes were to be added to the urn, but they were scattered elsewhere in the Garden of Rest.
It's truly ironic that the author of possibly the most famous literary work about vampirism never really achieved true celebrity status until after his death. Like its main character Count Dracula, the novel took on a new life (I'm avoiding using the term resurrected) in the years after its initial publication in 1897.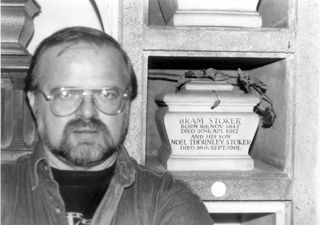 Visitors to the crypt housing Stoker's urn these days are required to be escorted by someone from the columbarium personnel. During my initial visit in the early 1980s, I was simply handed the key. One would guess that I didn't look like I was planning to steal or vandalize anything.
Among the other notables whose ashes are contained at Golder's Green, either in an urn in the columbarium or buried in one of the surrounding gardens are: Sigmund Freud, Anna Pavlova, and Keith Moon; and actors Gibson Gowland, Joyce Grenfell, Hugh Griffith, Cedric Hardwicke, Jack Hulbert, Frank Lawton, Ivor Novello, and Peter Sellers.
Former husband and wife actors Ian Hendry and Janet Munro are also there. Classic film actor Conrad Veidt's cremains were originally kept in a crypt in Ferncliff Cemetery in Hartsdale, New York, but were brought here in 1997.
Among those who were cremated at Golder's Green, but whose ashes are elsewhere, are comedian John Inman and author HG Wells. Wells' cremains were scattered by his sons at sea (some sources say in the English Channel).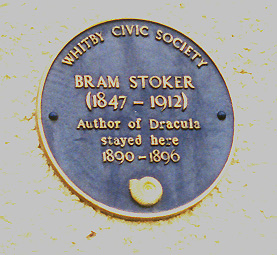 Stoker was born in Dublin, Ireland and died in London, England. A plaque exists commemorating his stay in Whitby, England (a location used in the novel, Dracula).
In more recent times Stoker's great-grandnephew is attempting to get a statue of him erected in his home city of Dublin.
--Jim K/Prof K