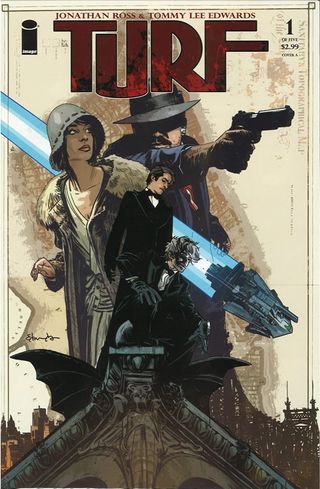 Zombos Says: Good (in spite of poor page layout)
If you've ever read a Classics Illustrated comic you're familiar with how the artwork is accompanied by large blocks of narrative and copious balloons of dialog in each panel. By today's standards those comics appear too wordy, but these are literary classics that were transferred to a medium their authors didn't normally worry about. To compensate, the panel layouts were carefully designed to accommodate art and text so neither overpowered the other.
Image Comics' Turf issue 1 is like reading a Classics Illustrated story, but without that careful planning of art and text layout. This gives the impression the artwork was done first, then narrative and dialog text were slapped on top, creating an awkward, crowded, and often contentious marriage of both within panels too small to cleanly hold them. Some pages stretch to ten panels, which are then crammed with text, some of which is either unnecessary or could have been better accommodated by choosing a different page layout or approach. How Alan Moore's penchant for verbosity is craftily handled in comics comes to mind. So my question is why didn't Ross and Edwards do a better job of planning their graphic story layout? Jonathan Ross' story is ambitious and well written--for a novel--and Tommy Lee Edwards artwork captures the grit and flap of the roaring 1929 social scene with detailed precision--when you can see it.
Suzie, the society columnist for the Gotham Herald realizes her dream of becoming a bona fide news reporter when European vampires (their progenitor, shown in one panel, looks like Bela Lugosi's Dracula), led by Stefani Dragonmir, move to eliminate the city's gangs and take control of organized crime. Along with her reluctant photographer Dale (why do sidekicks always seem reluctant?) she's heading knee deep into the belly of the beast. If that's not enough for you, there's also alien cargo runners locked in a space battle above the city, soon to crash the party in issue 2. Vampires, gangsters, and aliens: sounds like a B-movie extravaganza, not to mention a mysterious Old One the vampires are looking to revive to start their war on humanity.
Given panels sized and arranged to fit everything snugly but adequately, issue 1 would be almost exhilarating in its pace and setups. However, as written, the only size to properly make it all harmonize would be a coffee table book format. Without a doubt, for the cover price, this is one issue where you get more than your money's worth.