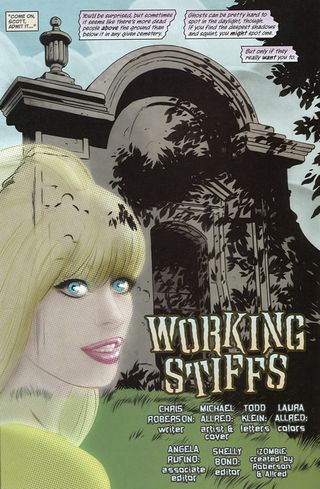 Zombos Says: Very Good
You'd be surprised, but sometimes it seems like there's more dead people above the ground than below it in any given cemetery.

For issue 2, iZombie gets a new-look title and picks up momentum with its art and story. Roberson brings us closer to Gwen's ghostly girlfriend Ellie, introduces Scott's pocket-protector inclined IT pals at work, and the vampire girls running the local Blood Sports Paintball attraction have a 'business' meeting. Mister Mummy, Fred's murderer, puts in a brief appearance, although what he's up to or what he might be after is not disclosed. His pet cheetah likes to eat juicy steaks on the couch, though, while watching television.
This issue doesn't add much to Gwen's investigation of Fred's death beyond her meeting his wife and son, awkwardly, in the cemetery, but it embellishes the people we met in the first issue. The two mysterious monster hunters are back, and they're on the trail of a rogue vampire. For a small town it certainly has an unusually high amount of supernatural citizens, much like Buffy's Sunnydale.
The simple, smooth lines of the characters are not effusive or overly energetic, but with a variety of page layouts for them to converse and act in, there's a Dylan Dog-ish quirkiness just itching to scratch through. Eye-candy pastel colors and zip-a-tone keep the story's tone light, but don't overshadow Gwen's moodiness. The difficult balance between art and word is just about perfect, making this series a pleasure to read as much as look at.
This issue was provided by Vertigo for review.