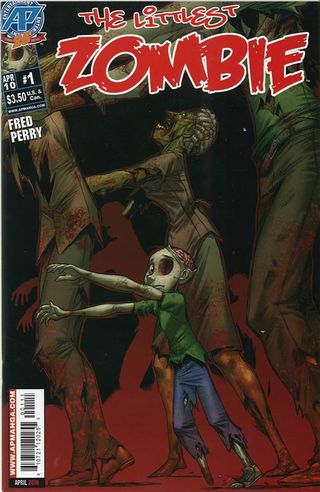 This is part of what makes it hard to get food now. All of the slow, unarmed survivors have already been eaten.
Zombos Says: Good
Fred Perry's plucky undead kid in The Littlest Zombie (from Antarctic Press) is beset by life's--rather, I should say--undead's challenges of finding food in a world with no Stop and Shops but lots of bigger-sized, and often unsatisfied, consumers competing for scraps of fresh brains and sinewy limbs still flailing.
Issue 1 brings frantically struggling paramilitary survivors and patiently struggling zombies together, and the little fellow smack dab in the middle looking for a leg up, or just about any other body part he can sink his rotting teeth in to. His main challenge this time around is one very large zombie that illustrates the when-he-sits-around-the-house joke quite well. The squabbling living folk use him for a door stopper to keep the horde of onlookers away while they fight among themselves. The living's social disorder is hinted at when mention is made of slavers and marauders, and the final decision to sell out others in order to stay off the menu.  Perry only gives us hints of how the living are making do with scant resources, but this may indicate he has a grander scheme in mind for future stories. Perry's art is light-hearted but detailed enough to play off the usual tropes of zombiedom's nastier habits. It's a shame he only has black and white to work with, although he makes more than adequate use of it. Color and zombies make a better match graphically. Nothing says putrescence like green and ochre.
Perry's morality play approach makes his little fellow appealing, and deceptively less threatening then his adult brethren, but also keeps him feisty and hungry enough to stay  zombie cute enough for a plush toy.