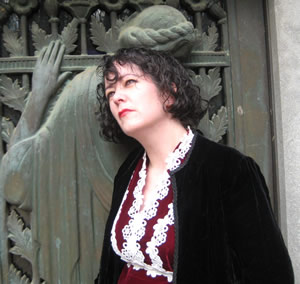 Many fans of horror, amateur and professional alike, have devoted themselves to blogging about the thrills, chills, and no-frills side of the genre as seen in cinema and print. In this ongoing series that highlights the writers behind the blogs, we meet the unique personalities and talents that make the online horror scene so engaging. Up close and personal.
In this installment, Bloofer Lady* from Horror Crypt explains the dark shadows that led her to horror.
My mom named me after a witch that appeared on the soap opera Dark Shadows, so I was kind of born into loving all things dark and macabre. My father used to take me to cheap double features when I was a kid and that's how I first saw Xtro, Galaxy Of Terror and Dracula AD 1972. I don't remember a time in which I wasn't allowed to watch horror films. I grew up to be relatively sane and well adjusted so they didn't really do me any harm. Or did they?
I started to get heavily into gothic horror-type films when I was in high school, which was also around the time I became a goth/punk weirdo. They kind of went hand in hand for me. It was much more fun to dress like somebody out of a Hammer film than to be 'normal' after all! Soon after that I started to get into Italian horror. The Church was the first Italian horror film I ever saw and I loved the look and feel of it so much that I was instantly hooked. Soon I was watching any Euro-Horror film I could get my hands on, and over the years that particular horror genre has become my favorite.
I started doing horror movie reviews for a couple of different independent sites five or six years ago, but I wasn't completely happy writing for somebody else all of the time. After quite a few years of thinking 'My goodness, wouldn't it be fun to have my own site!' I finally got the nerve to buy my own domain name back in the beginning of last August and created Horror Crypt. I mainly started it as a venue to post my own horror movie reviews, but I have kind of branched out into other things such as recommending really morbid things that I like to others. One day I would like for it to become a full-fledged site because that would be nifty and peachy-keen!
*Zoc Note: "Bloofer Lady" is what the children called Lucy in Bram Stoker's Dracula. After she turned...