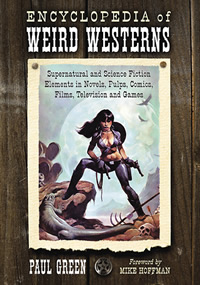 Zombos Says: Very Good
Westerns aren't dead: though pocked with bullet holes, they'll probably live on as long as we can keep them new and interesting with near-infinite variations on their central themes. I think that's better than good. (Mike Hoffman, foreword)
I became hooked on the outre Western tale after watching Gene Autry's The Phantom Empire (1935) serial. To see cowboys, ray weapons of mass destruction, a mysterious subterranean empire's technology being sought after by unscrupulous businessmen, and Gene Autry getting a snappy song or two sung in-between the cliff-hangers--left quite an impression on my young mind back then. I didn't consider myself a greenhorn when it came to the weird western genre until Green's book proved me wrong. There's a lot more in them thar hills then I realized.
Paul Green's Encyclopedia of Weird Westerns: Supernatural and Science Fiction Elements in Novels, Pulps, Comics, Films, Television and Games is a rich vein for prospectors mining those dusty hills of the Wild Weird West. It's the kind of book I like to dog-ear and write in, and carry along with me, in my urban saddle bag, to refer to often.
Arranged in A-Z listing format, Green identifies these sub-genres: Weird Western (horror, supernatural, fantasy); Weird Menace Western (horror and supernatural themes, but concluding with a rational explanation); Science Fiction Western (future technology, aliens, alternate histories); Space Western (space opera with Western elements); Steampunk Western (set in the Old West and incorporating Victorian sci-tech); and Weird Western Romance (traditional romance involving time travel or the supernatural).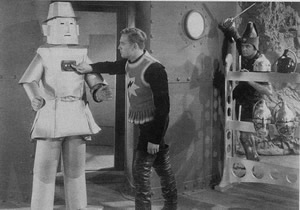 The Western genre, whether old-timey or saddle soap new, provides a simple backdrop for quintessential themes of characterization, plotting, and rip-roaring action that is ripe for mixing with the bizarre, the steampunk, the techno-goth, and the traveling horror sideshow's worth of oddities. From aliens to zombies and the robotic to apocalyptic, Green does a good job of rounding up diverse material to explore further, especially in areas you may not have thought much about, like The Prisoner's Living In Harmony episode (p165), or the Beany and Cecil episodes Phantom of the Horse Opera (p30) and Dragon Train (p30). A short synopsis describes each entry. Here's an excerpt from the one for The Phantom Empire:
Twelve-part serial starring Gene Autry in a unique mix of singing-cowboy and science fiction genres. The ancient civilization of Mu, located beneath Autry's Radio Ranch, is threatened by speculators buying the Muranian supply of radium. Autry attempts to save the people of Mu and protect his Radio Ranch.
Hokum? Sure. Fun and imaginative? Yes, without a doubt. And that is what the weird western is all about. From the not so serious to the sublime, the frisky to the outlandish, Green provides a broad range to send your posse after. His bibliography will also point you to additional Internet and print resources. An appendix categorizes entries by genre, which I find the most useful for discovering new comics, movies, and other weird westerns I haven't read or seen yet. Illustrations are sprinkled throughout.
So saddle up pardner and don't hit that winding trail without the Encyclopedia of Weird Westerns as your guide.