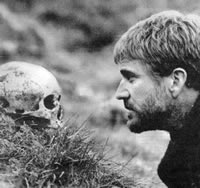 I think I came to this decision at 10:15 this morning. I was pondering it much of last night; spinning it around all angles most of yesterday. This morning, after reading over my Google Alerts, I realized it was time to rein in those slings and arrows of misinformation and boldly make my quietus with a bare post (bodkins are too sharp and hurt like hell).
Google Alerts pointed me to a news item mentioning the Bloody Bloggers Awards and how voting would be done by the League of Tana Tea Drinkers only. It was a well-intentioned and gracious bit of news, but not quite correct: it said voting would be done by League members only. Actually, voting for the awards would have been done by email, sent to me (I removed myself from nomination to remain impartial) by anyone who wanted to vote for their favorite nominees. And while the nominees themselves had to come from League members' making the recommendations, really, all a horror blogger needed to do was let us know about you and what category or categories you felt you best fit in--there were 13 of them to choose from. My goal was a simple one: promote horror blogs, especially lesser known ones, through an impartial, unbiased, non-commercial awards contest, and provide a mechanism--and motivation--for exploring lots of other horror blogs. The mechanism was a list of links to all nominee blogs and the motivation would be the awards themselves and the voting process.
At least I thought it was simple. It would have allowed every horror blogger to participate without commercial or biased endorsements skewing the results. It also recognized there were more possible categories for awards than simply the best horror blog, whatever that is. But here's the rub: my perception was not everyone's perception, and that has caused a little tempest in a teapot that makes for very bad tea, especially among members of the League itself.
And it has made members of the League of Tana Tea Drinkers appear elitest; cucumber sandwich-eating snobs who think we're hot shit when it comes to knowing horror and blogging about it. Well, I admit I like cucumber sandwiches, but we are certainly not elitest--sure, we like to joke a lot about that, but we're only joking--and while we do know our horror--just like you--we blog for the fun of it. Read our mission statement. No where does it say "we the members of LOTT D are elitest hot shit, so poo poo on you." What it does say is Our mission is to acknowledge, foster, and support thoughtful, articulate, and creative blogs built on an appreciation of the horror and sci-horror genres.
But that good intentions road-paving crew has pulled up outside. I see it's time to apologize for rushing into something I should have thought more about and especially for causing dissension that is hurtful and non-productive, and for forcing an argument where one should never have arisen.
I'm calling the Bloody Blogger Awards on account of foul weather. For all those who did participate, I thank you very much; you've alerted me to many sites I didn't know about. For those who tossed those slings and arrows, I'm sorry. In my rush to foster community spirit, I stirred up some restless ghosts that I should have paid attention to more. Perhaps in time I'll try it again. But it's stopped being fun.
Besides, with the new kid on the block, the Horror Blogger Alliance, I think our community has grown a lot bigger already. I wish them all the luck and support I can muster. Based on my recent experience, I know they'll need it.