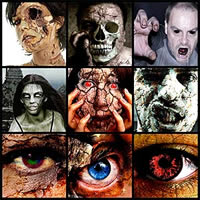 Other scenes, while violent, fell within the range of contemporary horror films, which strive to invent new ways to kill people, so the horror fans in the audience will get a laugh (Roger Ebert, The Last House on the Left).
Is Roger Ebert right?
Are me and you and them, and all the rest of us horror fans who eagerly frequent the dark cinema at the ungodliest hours looking for new, effects-improved, and more stomach and psyche-sickening ways to see people killed? Are we jaded? Are we insensitive? Or are we just fans who know it's all a bloody gag, a make-believe setup in a fantasy world. Even so, why do we get such a kick out of seeing other people get skewered, fricasseed and dismembered in ever-increasingly morbid ways?
The following members of LOTT D give their impressions on the subject.
Fascination With Fear shares its thoughts on contemporary violence in horror movies. Movie critics today (and probably always will) find horror fans inexplicable. They just don't get why we run out to the latest horror movie on opening weekend. They simply do not understand we are looking for the next great horror flick. (Still looking.....)
TheoFantastique finds some truth in Roger Ebert's blanket statement. In my commentary that follows I will relate my view that Ebert's statement is both understandable and correct in a sense, and yet also indicative of an unfortunate stereotype about horror fans.
And Now the Screaming Starts looks at Roger Ebert's statement by way of The Toxic Avenger musical and New York Times critic Charles Isherwood. For Ebert, Isherwood, and I suspect a large number of critics and fans, the issue is the gratuity of so much genre art. By "gratuitous" I don't refer to extreme violence (though that is certainly the case in many horror flicks). Rather, I mean the pointlessness of its extremes.
Groovy Age of Horror discusses the standards of horror fans and illustrates the difference between intended and unintended flaws in movies, and how they can make a quirky and appealing difference in the viewing experience.
And finally me. How do I feel about it? At first I took offense at Ebert's statement: he includes every horror fan, which makes it dead wrong simply because not all of us want more creative and sadistic killing in horror movies. Some of us actually believe it is more important to scare us or make our hearts beat in terror, not disgust us. It comes down to effectively telling a story with all elements coordinated to enhance that telling in a skillful and emotionally compelling way--really the goal of every movie, not just horror.
But he still has a point; the tacked-on, completely gratuitous, microwave scene at the end of The Last House on the Left is the poster child for what inhibits horror from becoming more than the sum of its blood and gore and mayhem. Many horror movies pander to the lowest common denominator of visual effect, and get lost in the elements comprising the movie, instead of making us lose ourselves in the complete story being told.
What do you think?