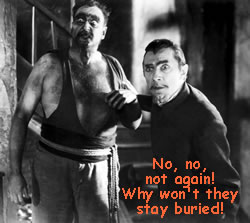 Beware! The archives have been unburied, and the hideous horrors released! For your entertainment and edification pleasure, of course. Members of the League of Tana Tea Drinkers dig deep to find their past misdeeds...and reveal them to you!
Evil on Two Legs continues their look into the fashion sense of the Friday the 13th series by focusing on the cast of characters presented in the aptly named Friday the 13th Part 2 (please see our first articlefor a look at the original film). Featuring one of the best dressed final girls of the series as well as Jason in the iconic "bag-head" costume, this should be a lot of fun.
It's only academic for the fantastic Theofantastique to interview Dr. Adam Possamai, Senior Lecturer in Sociology at the University of Western Sydney. He has researched and written extensively on new religions, as well as the nexus of the fantastic in popular culture and its connection with spirituality to form what he has labeled "hyper-real spiritualities."
Billy Loves Stu tells us how Roddy Piper and his tight jeans saved the world. From the moment we see him stroll into frame, his jeans fitting snugly, his blond streaked mullet flowing in the breeze; we instantly fall in love with part time actor/full time pro wrestler, Roddy Piper as the hero named Nada in 1988's They Live.
Horror's Not Dead takes us on a Zorkian adventure with The Unborn. Wild!
The Vault of Horror continues with a Quarter-Century of Freddy Krueger. Told in timeline fashion, it incorporates all "canonical" events in the life of one Fred Krueger. And by canonical, I mean accepted by New Line as officially part of their character's story. And yes, I'll admit to a little license taken on my part to help "smooth things over," if you will, and take care of any inconsistencies.
A sulking Love Train for the Tenebrous Empire finds Paul Naschy a "groovy swami" in Vengeance of the Zombies! (methinks Love Train needs to get out of the station more.)

And Now the Screaming Starts gives us dinner and a movie with The Deaths of Ian Stone, and their recipe for manchego-stuffed zucchini blossoms with piquillo sauce. Yummy!
The Moon is a Dead World dares to play Funny Games, but will the grand prize be death!
Special thanks to Dr. Macro's High Quality Movie Scans for this week's photo.