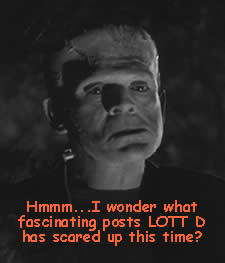 Beware! The archives have been unburied, and the hideous horrors released! For your entertainment and edification pleasure, of course. Members of the League of Tana Tea Drinkers dig deep to find their past misdeeds...and reveal them to you!
Theofantastique looks at two small screen treasures from the '70s: Many readers will be familiar with House of Dark Shadows (1970), and The Night Stalker (1972) from this time period, but perhaps far fewer will be familiar with what I regard as two gems from the period: The Norliss Tapes and Satan's Triangle.
Billy Loves Stu sends a letter to Camp Stonewater regarding The Burning: You might have heard that we had some problems up here ... it's true, seems that one of the former groundskeepers went a little nuts-o after some kids burnt him up a couple of years ago, and now the killjoy is trying to ruin it for everyone else. What a jerk.
The Vault of Horror celebrates a quarter-century of Freddy Krueger: That's right, Mr. Fred Krueger has been haunting our dreams for one score and five years now, ever since Wes Craven first birthed him onto the cinematic landscape in 1984, one of the most brilliant creations since the heyday of Universal Studios.
Dinner With Max Jenke continues the Freddy frenzy: I can't say that the Elm Street films were always favorites of mine but Freddy's cult hero status was part of what made '80s horror fun. There's a whole generation of now-twentysomething horror fans who bought their first issues of FANGORIA because Freddy was on the cover.
Zombos' Closet of Horror scares up some ghosts in The Gravedancers: While the smartly dressed paranormal investigators in The Gravedancers aren't exactly the plumbers by day, fearless supernatural inquirers by night kind, they still manage to do a few things right. But when you go dancing on other people's graves, well, you might as well stick a "Kick Me" sign on your back and be done with it.