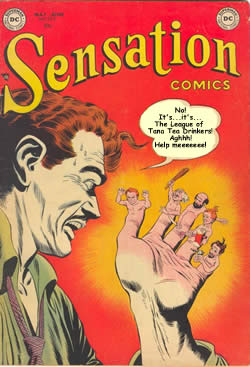 Beware! The archives have been unburied, and the hideous horrors released! For your entertainment and edification pleasure, of course. Members of the League of Tana Tea Drinkers dig deep to find their past misdeeds...
Cinema Fromage dares you to face Ingrid Pitts' boobies!
Attentiondeficitdisorderly Too Flat exposes Chris Ware's ACME Novelty Library No. 19...
My Monster Memories reveals its monstrous 7 foot tall...monster robot! And it could be yours, too.
Love Train for the Tenebrous Empire doesn't keep Dorian Gray in the attic anymore.
The Vault of Horror has kaiju under its skin...and Godzilla stomping down. Run for your life to read more!
Igloo of the Uncanny goes mad for the Giant Gila Monster!