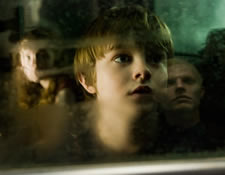 Zombos Says: Excellent

That particular sequence caused me no end of headaches and nightmares, because we decided at an early stage to get it all in one continuous shot. So from the moment when the plane crashes into the freeway and goes breaking up and exploding into a field, Nic's character then pursues, and runs into the maelstrom and tries to save people (from Alex Proyas interview).
I am taken aback by the negative--at Times, vitriolic-- criticism for Nicolas Cage and director Alex Proyas' dark, apocalyptic thriller Knowing; such disdain is usually reserved for horror films, not more mainstream fare. As he did in Dark City, Proyas conjures another sepia-toned vision of determinism, fate, and faith, and ratchets up the tension with three carefully crafted, special effects-laden scenes of death and destruction before finishing with an outstanding fourth. Cage, as astrophysicist John Koestler, portrays an everyman, quirks and all, coiled and held tight in the moments, filled with knowledge but mostly powerless. Borrowing the science fiction staples of pending global cataclysm (seen in 1951's When Worlds Collide, slated to be remade in 2010 by Stephen Sommers), and celestial intervention, Knowing is an emotionally charged drama meticulously combining horror, science fiction, and fantasy conventions into an absorbing story worthy of more serious, and less caustic, critique.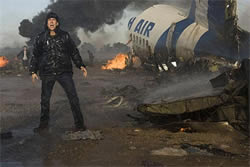 The numerical scribbling of a troubled child, Lucinda Embry, sealed in a time capsule since 1959, sends Koestler on a personal journey, putting his bitter shit just happens disbelief in causality, as he explains it to his students, to the test. After losing his wife in a hotel fire he sees no purpose or grand scheme in the seemingly random, and tragic, events of his life, until he accidentally finds a prophetic pattern within the seemingly random numbers written on the sheets of paper unearthed from the time capsule. What that pattern means, and the invariable progression of its effect on his life, forces Koestler to change in both mind and spirit. Cage, with his typically haunted look, irregular features, and tense demeanor, perfectly conveys Koestler's consternation as those numbers add to a sum of truth both disturbing and almost irreconcilable for him. When a predicted event pushes him into the suddenly algorithmic universe--a stark contradiction to his beliefs--he feels powerless no matter how much he may know.
That event, shown by Proyas in one unbroken vision of fiery chaos, is stunning and sobering for us as well as Koestler, making us realize, along with him, how cosmologically insignificant we can become in a matter of seconds. When the special effects threaten to overwhelm our senses and the humanity of the story, Proyas maintains our focus on Koestler's struggle to cope with the truth, his son Caleb's coping with the loss of his mother, and those around him coping with the effect this clockwork universe, ready to strike the eleventh hour, will have on their lives. Surprisingly for me, in spite of having read the Wikipedia spoiler-filled description of the movie's events the night before seeing Knowing, I was still mesmerized by the unfolding story, written by various contributors; even though I knew what would happen, again and again, I still felt the tension build, and still became emotionally vested in Koestler's predicament.
When mysterious and silent men dressed in dark clothes begin appearing to Caleb (Chandler Canterbury), Koestler seeks out Lucinda Embry's daughter, Diana (Rose Byrne), to learn more about her mother. At first she avoids him, but Diana has been haunted by her mother's bizarre behavior and eventual suicide, and secretly fearful of her mother's prediction of the day she, Diana, will die. Diana's own daughter, Abby (Lara Robinson), reveals that she has also been visited by the silent men, who mentally whisper to her. Koestler and Diana return to her mother's abandoned mobile home to look for answers. Covering the walls are newspaper clippings of world events and a drawing of Ezekial's Wheel. Diana tells Koestler her mother would stare for hours at the drawing. In a chilling revelation, both learn the significance of the last series of numbers written by the young Lucinda before her teacher took the paper away from her. But Lucinda, under the influence of the whisperers and unable to stop, had scratched more numbers into a closet door at her school, perhaps providing an important clue to salvation. While they are in the mobile home, the silent men approach the children in the car, leading to a brief but definitive confrontation between Koestler and one of them, hinting at their true identities.
As Koestler frantically seeks the last series of numbers buried under layers of paint on the closet door, Diana flees with the children to find a safe haven. But how safe will it be, and what do the children have to do with the whispering men?
Above all else, this is a classic popcorn movie. With its vibrant and emotive music and its balanced pacing of quiet little moments between the loud, big ones, the intelligent and skillful special effects enhance an engrossing story, grabbing our attention as well as our gut, leaving you with the seldom experienced sense--these days--of getting your money's worth.
Just go light on the butter.