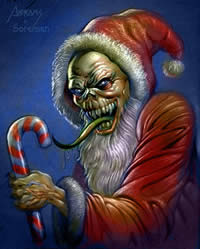 Hellz n' Bellz
Hellz n' Bellz
Screaming all the way!
What the hell, am I to do
With my horror fan's gift-buying today, hey!
"Well, what are you waiting for?" insisted Zombos. "Stop daydreaming and get out of the damn elevator shaft already."
We were playing Alone in the Dark and I kept getting killed. I refocused my attention and pulled my thoughts back from dwelling on the early days of PC games, keyboard and mouse controls, and cheat codes--lord knows I could use some omnipotence now. I stared at the Nunchuck and Wii-mote in my fumbling hands. My awkward, entirely useless hands, struggling to master the rudiments of the life-like motions and 'A', 'B', 'Z', button-presses needed to save myself--damn, fell down the elevator shaft again. Where is that '-' button anyway, and how do I use it to get past those blasted exhaust fans?
"You're impossible," encouraged Zombos, grabbing the Wii controls out of my hands. "Go do something useful, like putting together a book gift-buying list or something."
Now that was a good idea...

Continue reading " Horror Fan Holiday Gift Guide for 2008 " »