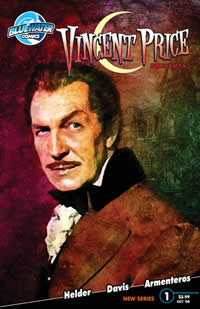 Using the persona of famed horror actor Vincent Price to host a series of illustrated terror tales is a demanding challenge. While Price is noted for his appearances in movies that run the gamut of genre tastes, he never faltered in delivering a performance that was always interesting and entertaining. Even if the movie was not all that good, you could always count on Price to have fun with it, thereby making it fun for horror fans. But can his unique personality and image remain true when conjured up for Blue Water Comics' Vincent Price Presents? Or will we get a manga-ized, perhaps washed-out looking Price who chuckles over his ill-fitting lines of dialog, and squints his inky eyes across tedious panels of trite and recycled scare stories? Let's find out in our one-two punch review.
Issue 1: Welcome to the Family of the Night
Zombos Says: Good

Now, little boy. There's a vampire waiting especially for you. And he's very large. And he's very very hungry. First, he'll feed, and then he'll bottle what's left for cocktails.
Chad Helder, author; Ray Armenteros, story artist; Joel Robinson, framing artist; Malachi Sharlow, letterer; Darren G. Davis, editor.
Robinson's photo-realistic framing art is excellent for capturing the facial nuances of Price as he introduces, and gives parting commentary for, the story of a vampire utopia where humans, especially children, are a controlled food supply. We follow one child named R, who is unfortunate enough to be "adopted" by Mr. and Mrs. Clive, two vampires with a big appetite. Armenteros's story art splashes paint-like strokes between darkness and bold colors across panels of varying shapes and sizes. His facial close-ups of the Clives staring down at R as they put him to bed, and R staring up at them before they put the bite on him for a nightcap, are chilling. Helder's narrative is a sci-horror blend of vampiric blood-sucking terror and android saviors, generating a palpable fear of R's predicament of being trapped in a deadly situation with vampire "parents" bleeding him dry every night until he dies. This first issue is a good beginning for the series.
Issue 2: Orok the Neanderthal
Zombos Says: Fair

My brother you have come to join me.
I have been so lonely. Every day is an eternity.
Every night is a feast.

Chad Helder, author; Giovanni Timpano, story artist; Joel Robinson, framing artist; Malachi Sharlow, letterer; Jesse Heagy, colors.
Alas, poor Yorick, the momentum begun in issue one is not sustained in this story of lycanthropy and cavemen. The more photo-realistic looking Price, pondering homo sapiens while looking at a skull, introduces Helder's tale of primitive evil and early man's fight against it. There is very little dialog here--okay, they are cavemen--but the oversized panels broadcast the action with little subtlety. Timpano's artwork is adequate, but has no flair. It adds no emotional depth to Orok's personal loss, or the ferocity of his opponent, or the duality of good and evil in man's nature. Helder's lack of narrative description in these panels, combined with the little dialog there is, leaves us looking at them at face value, with no mythic insight, no clarity of the story's intent, and, more seriously, no tension to emotionally involve us.The B-movie twist-ending does not add to the story; instead, it serves to diffuse whatever mythological significance it may have contained. This second issue is not a good way to sustain the series.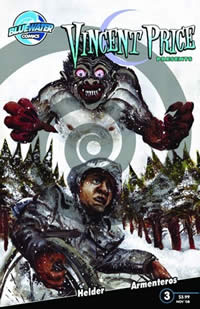 Issue 3: A Whistle to Open Worlds
Zombos Says: Good

Beware, you are about to witness an All-American nightmare. Many readers will recognize the setting for this horror tale. It is called the microcosm, the world in miniature.
Chad Helder, author; Ray Armenteros, story artist; Joel Robinson, framing artist; Malachi Sharlow, letterer; Darren G. Davis, editor.
With editor Davis's return, this weird story of quantum-induced nightmare by Helder moves the series firmly back on track. Once again, Armenteros splashes his bold strokes across each page, barely keeping within the boundaries of his own panels. Creating a Van Gogh Starry Nightmare against a snowbound backdrop with his primitive swirlings, his visual momentum energizes Helder's bizarre predicament for African-American physicist Andrew Routledge. Tension and a building puzzle keep the reader involved until the last page, where the surprise explanation(?) awaits. Price's beginning and ending commentary is more playful and more important here, helping to explain the main narrative.
But exactly what is Helder getting at? That's the tough question, and one that elevates this issue to metaphorical implications beyond face value. Just what--or who--is the Shadow Man, and why does he cause the people in this Currier and Ives town to change into pop-eyed monsters that look vaguely familiar. Is Routledge trapped within his own reality or someone else's? And who is the man with the big smile who gave him the whistle to blow when the time was right? What the hell is going on? The folk-art styled illustration is a clue as both Helder and Armenteros work together to make this unique third issue more than frightfully good.