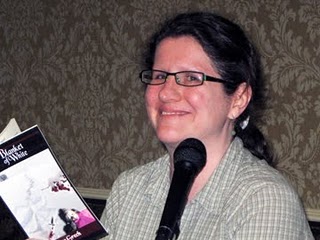 An interview with author Amy Grech...
Why use literary horror as your writing voice? Why not sci-fi?
I've actually written some sci-fi stories with horrific elements, of course! My story EV 2000 is a futuristic horror story inspired by my fear of giving blood. I hate needles. I don't discriminate! I write horror because fear is an emotion everyone can relate to — everyone gets scared — some people are afraid of rejection, or death, or thunder…Fear drives my characters, it's a powerful motivator — it drives them to act on their primal instincts for better or worse.
I've also noticed that when a story is going well, my characters will take over and call the shots; more often than not, they do bad things, breaking more taboos than I can fathom. I'm just along for the wild ride as an innocent bystander.
You said "most of my stories focus on subtle horror." Can you explain what subtle horror is, and give us some examples, perhaps from cinema and literary sources?
Subtle horror typically involves a descent into madness, a gradual progression into the unknown. It's important for my readers to relate to my characters before bad things start happening, that's why I make sure all of my characters have their share of flaws and quirks. No one I know is perfect. Why should my characters be? I want my readers' sense that something isn't quite right to build gradually, so they're not immediately aware of when the threat will appear.
David Lynch has been a great inspiration — I've seen all of his movies —Blue Velvet is a personal favorite of mine. One minute everything seems prefect, picturesque…Then we see a severed ear with ants crawling all over it and strange things start happening. All of Lynch's films have a subtle, surreal feel. He does a great job of distorting reality, something I constantly strive for in my work. My stories are very visual — I think they would work well on the big screen…Hopefully some of them will be adapted for film.
Turn of the Screw by Henry James and Mary Shelly's Frankenstein are two novels that contain evocative imagery and loads of atmosphere. Throughout Turn of the Screw references to eyes and vision emphasize the idea that sight is unreliable. In Frankenstein, dangerous knowledge is pivotal to story as Victor attempts to exceed human limits and access the secret of life. Likewise, Robert Walton attempts to surpass previous human explorations by endeavoring to reach the North Pole.
This ruthless pursuit of knowledge, of the light proves dangerous, as Victor's act of creation eventually causes the destruction of everyone dear to him, and Walton finds himself perilously trapped between sheets of ice. Whereas Victor's obsessive hatred of the monster drives him to his death, Walton abandons his treacherous mission, having learned from Victor's example how destructive the thirst for knowledge can be.
I enjoy asking writers about their creative process. You've been writing successfully for a long time now. How did you finally get into the groove, and what challenges did you need to overcome to do that and stay groovy?
I grew up reading Stephen King's novels —I got hooked at the age of 13 — and started writing seriously in high school. I studied English/Creative Writing at Ithaca College in Upstate New York. I started selling my stories to small press magazines while I was still in school —14850 Magazine was my first.
When I first started writing, rejections didn't discourage me, especially since I started getting personal responses from Editors early on; their encouragement motivated me to find my unique voice and hone my craft, creating complex characters capable of anything.
I'm very disciplined: I write for at least two hours a day — listening to music helps me get into "the Zone," that magical place where time seems to vanish while I'm hard at work on my latest project. I also carry a little notebook with me everywhere — it's not unusual for me to jot down story ideas when I've got some downtime, I live in Brooklyn and commute to Manhattan often.
Authors, of course, are a big part of a writer's influences. But what about horror movies? Which movies do you love, which do you hate, and why
Movies I've seen at least 5 times because I love them so much are Blue Velvet, The Exorcist, Psycho, and the original Texas Chainsaw Massacre. I despise remakes — they're usually horrible and pointless. Instead of ruining a good thing, Hollywood should re-release the classics for younger generations to enjoy.
Okay, now what about authors? Who inspires you, who doesn't, and why?
I've always been a fan of the Surrealists: Kafka, Lovecraft, Poe. Reading their stories always made my heart beat faster. I was hooked when my eight grade English teacher read Poe's The Tell-Tale Heart to the class on Halloween.
Several modern authors who inspire me are: Harlan Ellison, Jack Ketchum, Brian Keene, Stephen King, Joyce Carol Oates; all of these writers have mastered the art of fine storytelling, breathing so much life into their characters that they feel like real people and I often find myself concerned for their welfare.
Whenever I tell people I'm a Horror Writer, some of the really misinformed individuals will smile and say, "Oh, like Anne Rice?" This causes me to shudder uncontrollably — I can't stand Anne Rice's writing — vampires bore me. Her characters always seemed one-dimensional to me. I know she has a loyal following, but that's just my opinion.
Let's talk about Apple of My Eye, your thirteen-story collection. Tell us a little about the nature of the stories, what led up to them, and what it took to bring it all together.
Apple of My Eye represents 10 years worth of my stories; consequently, some of them, Apple of My Eye, Snubbed, and Crosshairs are quite extreme, while others are erotic, like Come and Gone and Cold Comfort. The rest of the stories are subtle, but they contain a few nasty surprises: Ashes to Ashes, Initiation Day, Prevention, Raven's Revenge, Rampart, Perishables, Damp Wind and Leaves, and EV 2000.
You might say Apple of My Eye has something for everyone! The title is my twisted take on the term of endearment, "You're the Apple of My Eye." All of the stories explore love in all its guises.
Rejection! Lots of beginning writers face it. I'll assume you did, too. How did you deal with it and keep going?
Yes, in the beginning I got nothing but rejection letters, but they inspired me to keep writing, especially when Editors took the time to offer constructive criticism, which fortunately happened early on.
My advice to authors who are just starting out: Don't give up — your diligence and persistence will eventually pay off, just be patient and your talent will be recognized.
I tend to think the horror writing field is an equal opportunity proposition for everyone. Am I right, or have you noticed a bloody ceiling of horror even here?
I'd definitely have to agree! One of the things I love about the horror writing field is the camaraderie — there's a real sense of community. Horror Writers are some of the nicest people I know, mild-mannered, too! I'm an Active Member of the Horror Writers Association. I also frequent the Shocklines Message Board. All the cool writers are on LiveJournal, myself included
Don't get me wrong, writing takes creativity, drive and ambition — every Horror Writer I've met so far is interested in what I'm working on and vice versa. I wish I had more money to attend conventions — they're always a good time — I enjoy catching up with folks I already know and matching names to faces.
What are you working on now?
I could tell you, but then I'd have to kill you…No, seriously I'm working on several short stories. Amazon.com has a new program called Amazon Shorts; stories are available for download. Best of all it only costs 49 cents, a real bargain for some serious entertainment! One of my stories will be live on the site soon; it's one of my quieter stories. I wrote it while I was still in college.
What's the one question you would love to be asked, and what's the answer?
What scares Amy Grech?
Lots of things: death, fear of rejection, and thunder are the big three…I've had a few near-death experiences — if I'm like a cat, that mean's I have six left. I was born with my umbilical chord wrapped around my neck — I almost didn't make it into the world; luckily the doctor did a C-Section and I live to tell the tale.
My second brush with death came on a hot summer's day. I was across the street at my friends' house; since it was so hot out, we were drinking tall glasses of iced tea. I remember running around with ice cubes in our mouths — not a good idea, but, hey, we were just kids. I guess we were about eight-years-old, having a good time until I choked on mine and blacked out. When I came to, my friend Karen told me my face had turned blue and her mother performed the Heimlich maneuver.
We used to have a big athletic event at my elementary school called Field Day, held at a park, which meant a break from classes and lots of fresh air. Well, I've always been a good sprinter so I ran the obstacle course. I had to clear some hurdles, but I missed one, landed on my head and blacked out for a second. Then I kept on running and won the race! Go team, go! Okay, lucky for me that last one really wasn't a brush with death, but I could have snapped my neck. Landing on your head isn't something I recommend!
Violent thunderstorms have always scared me, lightning, too. When I was a little girl, our house was hit by lightning…Thankfully nobody got hurt, but our stereo got fried. If I'd be asleep in bed and the thunder was so loud the windows rattled, I'd wake up and hide under the covers. And you wonder why I became a Horror Writer!
Visit her website http://www.crimsonscreams.com.