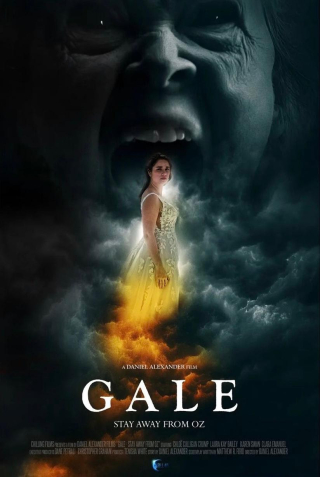 This one has me somewhat confused. I'm not sure if it's a series, a movie, or what it is supposed to be from Chilling. I'm not even sure where you access Chilling. The screener request provided a short teaser for this horror, and not much else. Promotion not at its finest so far.
As for the teaser, it looks promising. Dorothy Gale (Karen Swan)  is an elderly woman suffering from dementia and a fear of something that causes her to yell a warning to stay away from OZ. Visiting her estate is Emily Gale (Chloe Crump), who is the person she warns. Emily is having nightmares and those lead her to seek out Dorothy, though it is not clear what her relationship is with the famed author of the OZ books beyond their last names matching up.
The nightmares trouble Emily enough for psychotherapy sessions with a doctor who looks very familiar, hint hint. Crump's Emily is lethargic and hopefully, will pick up some energy and more facial expressions beyond the one she uses throughout this teaser. 
During her brief and bizarre visit with Dorothy, she meets her therapist (Clara Emanuel) who, again, seems very familiar, hint hint. It seems therapists are a big thing with anyone connected to OZ.
Spooky nightmares, yet another cryptic, well worn book, frantically scribbled and drawn in to provide parts of clues (doesn't anyone in horror movies know how to take good notes?), and the start to a quest for answers, ironically, are leading Gale to OZ and not away from it.
Like I said, promising but confusing. I will keep you posted when I find out more.