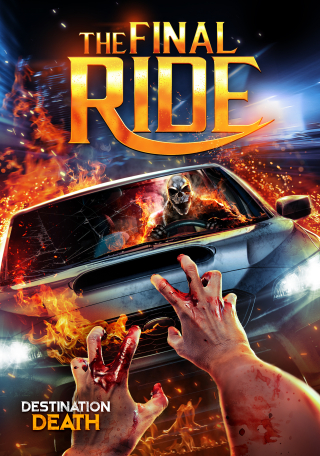 Zombos Says: Fair+ (assorted cardboard acting and sub-basement budget levels (though the splatter effects are a hoot) level all to home movie status, but this anthology horror has an artful 1970s and 80s patina and tongue in cheek sensibility that cries out for love: a festival-fan winner for sure).
Let me state up front that the sizzling poster has nothing to do with the movie. It's a great poster, don't take me wrong, but my guess is they spent more money on it than the movie. But if you ride along with this 79 minutes worth of three stories that kick off with a hop in the car, you may find some artful recapturing of the 1970s and 1980s grit and cheapness which is nirvana for true believers. Of course, you'd have to be older, like me, to fully appreciate the camera work and tongue in cheek style that harkens back to that rush you got when perusing the video store shelves--not Blockbuster, I mean the mom and pop stores with the beaded curtained off areas--but that's the fun of festival-tour movies: they always mix it up for the old, the young, and the true savant of genre terrors.
After a montage of questionable fares, irritating our driver Jean (Keegan Chambers), the first nightmare kicks off with a couple hopping into the backseat as they decide on their new home; which, of course, has a sordid history that a neighbor relates, eventually, (and barely, as his acting effort was just as sordid) after strange things and behaviors are seen. What's really strange is how Peter (Matthew Chisholm) still has a video tape player so he and his wife, Monica (Annette Wozniak) can watch the box of VHS tapes found in the new house's basement. The tapes show Jimmy, a fitness masochist (best performance award to Ry Barret, for sure), pumping and sweating with Hulk Hogan gusto. Here's where the vibe capturing both 1970s street-level slackness and 1980s superficial slickness shines through in both camera work and overreaching tongue outside of cheek. That vibe turns video nasty when Jimmy works himself out of the tapes and into prime time, featuring bargain-basement blood splat that is so bad it's completely lovable in effect and in keeping with the 70 and 80s tone and mood.
The pace (and acting chops) picks up some speed as the second couple joins Jean, two guys boozing it up (J. Robert Bellamy and Brent Baird), daring each other to get tats (is daring still a thing?), choose the wrong tattoo parlor. Their friendship heads to a blowout as one gets the tatting of his life. One well-placed hilarious moment comes when the regretful tat man meets his girlfriend's parents. Yes, we've seen this black inked nightmare scenario before--actually, a lot--but our duo and their predicament has enough emotional and comic appeal propping it up--except for the wax figure lacklustre ending. Whoever did the set dressing for that one must have been sick that day.
The last outing for Jean comes with a worrisome fare hopping into the backseat but making moves to the front seat, and Jean finds out what's in her trunk the hard way. The usual switcheroo occurs, then the guns come out to determine who the real badass is. The novelty here is who does the shooting. If you are thinking of driving for Uber or Lyft, best not to see this movie or just skip the last story. 
While not as completely off the wall watchable as The Video Dead or Spookies, The Final Ride keeps the pace moving just enough, and the storylines watchable, just enough, to make it a fun ride. Just keep in mind that Nicholas Cage is not in this one, so don't be looking for him (even if the poster shows Ghost Rider driving a car instead of his motorcycle).