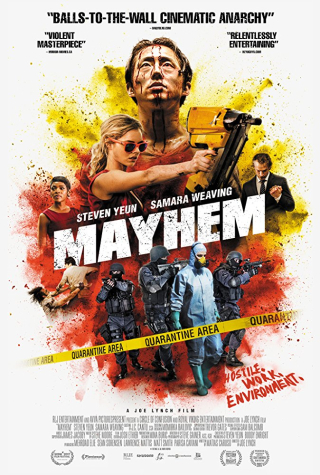 Zombos Says: Very Good 
Director Joe Lynch and writer Matias Caruso deliver a slick and acerbic paycheck of an office-bound slaughterfest with Steven Yeun (The Walking Dead, Voltron) and Samara Weaving (Ash vs Evil Dead, Three Billboards Outside Ebbing, Missouri) hammering, nail-gunning, and power-tooling their way to the boardroom on the top floor. The slapstick-gore, inhibition-releasing adrenaline rush that a virus unleashes in a big office building law firm provides opportunities for jabs and stabs that go beyond the copious blood-letting. Who wouldn't want to unleash their inner beast on the corporate mime and grime they wade through every day? Having it happen to lawyers is just so much more icing on the cake (as cinema often tells us).
Made to look the fall guy by slick shark manager "the Siren" (Caroline Chikezie), Derek (Steven Yeun) is fired and hustled out the building, almost. A S.W.A.T team pulls up with guns tightly aimed at anyone attempting to leave. The building is put on quarantine after a sensor tips off the feds to the airborne virus that turns one eye red of those infected. Let the mayhem begin.
Ever since Captain Kirk and his crew dealt with inhibition-releasing germs in The Naked Time, horror and sci fi cinema has delivered a smorgasbord of variations on the theme. Here, the mood is more grindhouse artsy (just look at the movie's poster art), and cheeky, when Derek pairs up with Melanie (Samara Weaving), a very unhappy, soon-to-be-evicted-from-her-home-by the-evil-corporate-law-firm-David-works-for, all too happy revenge-seeker. Excuses can be made since it was David's law firm that pioneered the non-liability defense for anyone infected. They gleefully crack open the tool cage, gear up, and do things we never saw on This Old House.
Camera handler Steve Gainer (and the editing) moves gracefully between the slaying and the quiet moments of reflection (well, not that quiet), through the bright white hallways and into the darker elevator and boardroom. The elevator to the boardroom, of course, provides a metaphor for climbing the corporate ladder as Derek and Melanie go after the keycards needed to take them to the top, where the cocaine-sniffing "The Boss," (Steven Brand), waits with his wine-sipping board members, who are hoping to ride out the contagion mayhem.
Most anyone who has worked in a corporate setting will certainly cheer Derek and Melanie on.