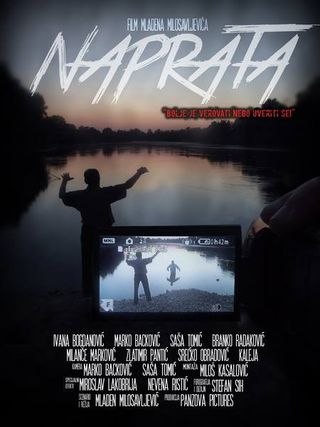 Zombos Says: Good
So much for swearing off found footage horror movies. When Mladen Milosavljevic messaged me on Facebook offering his movie, Naprata, for review, I could have declined but I didn't. I'm more open to watching foreign horror movies because their tempo, their tone, and their cultural nuances tend to make them more interesting and less standardized than the American made fare; at least when they are at the beginning of a potential franchise cycle anyway. 
Ad-libbed dialog, the use of a non-professional Canon camcorder, and a simple storyline setup, all combine to make this hour-long movie about local legends and a clear lesson in what you shouldn't do when told, repeatedly, not to do it an effective little chill.
There's a silent demon we see briefly; enough to know he's badass as hell. There's also an odd, matter of fact attitude conveyed by the local villagers about the demon and his good and bad sides: a yes-he's-real-but we've-learned-to-live-with-him-around-here attitude that is either intentionally directed or accidentally produced from the ad-libbing, but either way it works to create the necessary should we or shouldn't we situation for the newsteam from Belgrade.
The movie is in need of trimming--the interview with Kaleja (which is the actor's name)--goes on a little too long. Also needed was a less shaky-cam approach: the premise has a seasoned newsteam going around interviewing people about violence against women. I would expect an experienced news cameraman to set up his framing better than how the camcorder is utilized here, especially when filming people around a table where the framing would be less mid-shot and close-ups--causing a lot of unnecessary panning back and forth to each person speaking--and more wide-shot with a 3 to 4-shot framing, smoothly combined with zoom-ins for dramatic effect where appropriate. 
What's not needed is better acting. It's natural and near cinéma vérité flow here is provided by Baco (Marko Backovic), Ivana (Ivana Bogdanovic),  the strange and yet inviting Guardian of the Cemetery (Dusan Colakovic), and everyone else in this micro-budget, three-day, exercise in minimalist horror.
The Professor (Branko Radakovic) is even stranger and less inviting, and we never fully understand his intentions. He refuses to talk about violence against women, sees cats that aren't there, and knows way too much about local lore. The newsteam goes to him to continue their interviewing in the Serbian Village where Kaleja hit his mother with a tray. It is Kaleja's bad behavior, now very popular on FaceBook, that brings investigative reporter Ivana to the village. Ivana is serious, but her crew, including Backo who pees in odd places (he must be the producer) aren't that enthusiastic until the Professor detours their investigative reporting with tales of local vampire lore. Ivana loses control as Baco and her shaky cameraman insist on meeting another odd pair of villagers who tell more tales, of a demon called Naprata. And, oh yes, you can easily summon him with little food offerings or an evil task. But you must be absolutely quiet or he will not be a happy camper, okay?
Any horror fan will know how well that goes over.