Good day, Mr. and Ms. (or whatever you are) horror fan and lover of silly monsters. Your mission, should you care to watch, is to take a gander at silly monsters in even sillier movies. As always, should you be caught dead watching this stuff, your friendly neighborhood IMS team (Impossibly Monstrous Silliness) will step in with the usual excuses and denials to save you from utter embarrassment and the requisite shunning by your decidedly smarter horror peers.
I'm not sure what is worse, silly monsters or silly movies, but when you find that particular gem—the silly monster in a silly movie—consider your day a complete success (or waste of time depending on your disposition). MGM's The Green Slime is one such gem that still glitters in its ineptitude and awkwardness well after its first temeritous run in 1968. And that was right after MGM had released 2001: A Space Odyssey too; what a contrast! The Green Slime even has the distinction of being the first movie mocked with mirth by the crew of Mystery Science Theater 3000 in 1988, in the pilot episode for KTMA television. Joel Hodgson aired this proof of concept at the Archon32 convention in 2012.
Toei Company and director Kinji Fukassaku share the blame for this oddity of flora (or is it fauna?) germinating on an asteroid named Flora that is hurtling toward earth in OMG! it will be here in 12 hours hurtling to earth urgency. A team of astronauts fly over from the local space station, plant explosives on the asteroid, and make sure to splatter through all the green slime they find clinging to their vehicles. The little muck hitches a ride back to the space station with them. Much hilarious mayhem ensues as it grows up.
At this point you have a few choices: you can heighten—or deaden—the effect of all this inanity by a judicious alcoholic drink or two, imbibed while viewing this movie at regular speed, or you can simply speed it up 2x for a better, more Looney Tunes comedic effect. You have not seen futuristic space station dancing until you've seen it at 2x speed. Trust me on this. 
While you are doing that, feel free to rewind all the atrocious special effects, again and again, to satisfy your need for chuckles. There are miniatures so mesmerizingly badly constructed, and painted, they look like they were done by a 1960s monsterkid doing his or her first Aurora model kit with that crappy tube of not-glue replacement they stuck model builders with after some dopes started sniffing the real stuff. All this bad science fiction set design and prop building was then highlighted by poor camera angles and inconsiderate lighting, creating an overall feeling of oh my word, that's depressingly annoying, especially when you realize it was done by professionals who knew better. Maybe they sniffed too much model glue themselves? Worse are the balsa wood and cardboard props that look and wobble just like poorly constructed props do when actors pretend to use them. Or breathe too heavily on them. Maybe worse is the crazy futuristic costuming that is non-functional and anachronistic, like helmets that look pretty silly on grown men.
The piece de resistance is the green slime itself: a pretty well conceived green crusty goo that sprouts into pretty awfully realized solid, rubbery, monsters waving their non-functional tentacles around in unison like they are doing the wave at a sporting event. If that were not enough to shield your eyes right then and there and make you reach for a Freddy or Jason disc, their irritating high-pitched eeeehhh! electrocution of anyone in hugging distance of those flubbery tentacles is jaw dropping to watch.
Even as a kid, when my dad took me to see this clunker at the Loew's Oriental Theater in Brooklyn, I knew it was the silliest movie I had ever seen up until then. I couldn't sink into my theater seat any farther as I looked around to make sure none of my school chums were in the audience. I had a reputation to uphold, you know. Luckily, they avoided this one like the plague.
"The ludicrous monsters are a model of bad design. The four-foot tall, bipedal, bell-shaped creatures have a single [fixed] red eye in the center of their bodies, set in a lip-shaped socket." (Japanese Science Fiction, Fantasy and Horror Films)
According to some sources, kids were hired to play the monsters, which may explain why the choreography looks like a school play-ish attempt at portraying menacing monsters aboard a space station. After a futile and rather funny attempt to throw a net over one of them, all hell breaks loose and the already narrow corridors of the space station get even more impossible to maneuver as people try to avoid the green slime AND being run over by the absurdly large and completely unnecessary vehicles (well one, actually, being used again and again to trim the budget) being driven around for absolutely no reason whatsoever. A badly painted and constructed space station golf cart with a mechanical arm that couldn't possibly be of any use in the narrow corridors or cramped rooms, just there to fill set space and run over fleeing men. It's awesome! Of course, running down the green slimers would have been a bit more sensible, but you can't expect sense in a silly movie can you?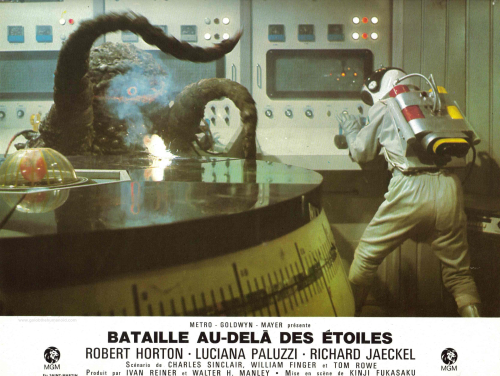 The special effects were perpetrated by Akira Watanabe and Yukio Manoda. They've done better work. Robert Horton as Commander Rankin also has done better work (Alfred Hitchcock Presents for one example). Sparring with him over testosterone levels and the beautiful Lucianna Paluzzi (Thunderball) is Richard Jaeckel (The Dirty Dozen and Sands of Iwo Jima). The Americanized version leaves in the endless minutes of their romantic and macho bickering over Ms. Paluzzi and who will take control of the situation; the Japanese version wisely leaves this crap out entirely, making the movie less of an ordeal to sit through. But it's still an ordeal, albeit a carnival ride for those so inclined.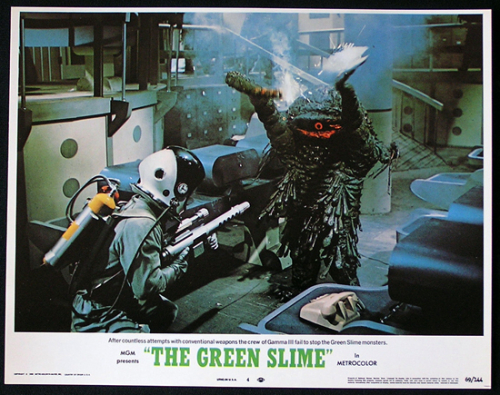 But if you're planning a silly monster in a silly movie party, one clunker is not enough. So here's another gem to be treasured from the science fiction cycle of the 1950s. Any top ten list of the silliest of the sillies would invariably have the so-bad-it's-legendary The Giant Claw (1957), produced by Sam Katzman and directed by Fred F. Sears. Jumping on the antimatter bandwagon circulating at the time, some bright bulbs (not to tattle, but they would be Samuel Newman and Paul Gangelin) lit up a script with a giant, prehistoric outer space bird that comes to earth and flies around with an antimatter bubble that resists military weapons and good taste.
"The Giant Claw seemed to initially have a sensible premise as well as a good storyline. The concept of antimatter was a plausible scientific theory at the time and attempting to depict it on the screen wasn't far beyond the realm of believability. We were told that the giant bird was supposed to be a sort of streamlined hawk that could travel at supersonic speeds. We weren't shown any sketches of it. The first time I saw the film I was in a theater with friends, I believe, in Westwood. During the screening all was going well until that big bird first appeared on the screen. The audience was howling. Every time it reappeared I just sank lower and lower into my seat. Whenever I attended a film, that I appeared in, with family and friends, it was customary to gather in the lobby and discuss it afterwards. In the case of The Giant Claw I couldn't face anyone and discretely slipped out one of the rear exits." (Jeff Morrow, as told to Professor Kinema, Interview with Jeff Morrow)
Contrary to Jeff Morrow's take on the movie, and, let's face it, he was in the thick of it back then so had to find some rationale to smooth things over, there is no sensible premise or storyline to be found here. None at all. A big bird from an antimatter galaxy wings its way through the vacuum of space, with its invisible antimatter force field to boot, to chow down on people, planes, and New York buildings (such as the Empire State Building and United Nations Headquarters). The tour de force here is the realized "streamlined hawk," as big as a battleship and 4x faster than the speed of sound (as stated in the movie pressbook). Katzman, in order to shave off some dinero from the budget (although he's quoted as saying he spent most of the budget on the special effects), decided not to use Ray Harryhausen and instead sent the special effects work over to a small studio in Mexico. Very small apparently, overseen by Ralph Hammeras and George Teague.
What they got back was a marionette. A hilariously ugly wonder that had googly eyes, flaring beak nostrils (that's right, beaks don't have flaring nostrils), raggedy feathers and wisps of hair glued on here and there, and way oversized claws. In scenes, it glided more than moved its wings and made turns just like a puppet dangling from strings would do. And while the movie scenes were played straight by the actors to what they imagined would eventually appear on screen, theater audiences who did get to see the monster couldn't hold back the jeers and laughter.
The pressbook has a coloring page (which could be printed in the local newspapers) that leaves out the head of the monster. The rest of the drawing shows an eagle's or hawk's body. The poster art shows an illustration of the flying bird from the back, which also looks like an eagle or a hawk, just awfully bigger than usual. Apparently the special effects people didn't look at the poster art for guidance. What they delivered was a cartoony buzzard and turkey hybrid with a goofy vulture face only a silly monster lover could find appealing. Spending its time devouring cheap miniatures with its craggly teeth (that's right, beaks don't have teeth), and dangling in front of a process screen showing background projection, the overall effect is entertaining for all the wrong reasons. They even managed to lift some of Ray Harryhausen's work from Earth vs. the Flying Saucers along with enough stock footage to open a warehouse. Perfect.
"Producer Sam Katzman, who entered the movie business as a prop boy at the age of 13, must have felt he had let down the prop profession after seeing the final cut. His Giant Claw, both the bird and the film, were major flops." (Cheap Tricks and Class Acts: Special Effects, Makeup, and Stunts from the Fantastic Fifties)
But the icing on the cake is the silly story. Not only do we have the so-bad-it-hurts creature letdown, but we also get the pseudo-scientific finger flipping the bird at us through a lengthy discussion of atoms, particle physics, and how they will penetrate the antimatter shield so they can cook the bird. The short answer?  A stream of high speed mesonic atoms is shot at the Giant Claw to destabilize its antimatter shield so weapons can penetrate. What do we actually see on screen? Puffs of white smoke coming out of the tail end of a wobbly miniature plane.
Did I mention Mara Corday stars as a systems analyst? It doesn't help the script so maybe we should skip that.
Until next time, happy silly monster hunting.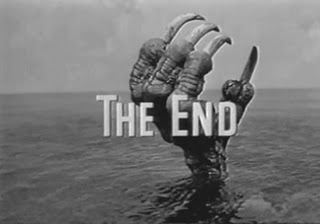 (See John Kenneth Muir's review of The Green Slime for an analysis of both good and bad elements. Yes, surprisingly, there are some good elements!)