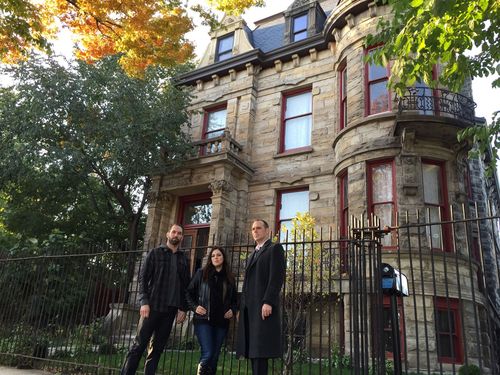 Franklin Castle is known as the most haunted house in Ohio for good reason. It has all the elements for timeless specters to make their rounds down dark hallways and across empty rooms: there's the tragic history for the original tenants, the Tiedemann family, whose members died too quickly, leaving no heirs to inherit the house; there are those unsavory rumors of murder and other evils taking place within its walls; and there's that spotty record of ownership and vacancy stretching over the years, with each former tenant not wanting to stick around.
The walking tour through the house, alone, is enough to creep you out. Franklin Castle is a brooding, sad, silent place, not at all the type of abode you'd want as a bed and breakfast. Unless you counted on all your customers being paranormal types and into continental breakfasts with ghosts.
Previous tenants, the Romanos, are invited by for a brief chat with paranormal hosts Nick Groff and Katrina Weidman. The Romanos resist entering the house, and once they do, they leave early. Wikipedia's article on Franklin Castle hints at why the Romanos were not too keen on returning.
Another invitee is  John Tenney, a paranormal researcher, who gives us the backstory to the proceedings. He brings the emotional pull for the episode, and its focus, telling us about young Emma, apparently still playing in the house. The Romanos describe how, when they were kids living there, they would play with Emma, although she always refused to go outside or change her Victorian-styled clothes. 
Soon the batteries go dead and the audio goes screwy, and our hosts and Mr. Tenney decide to get some fresh air. So yes, you can see why paranormal investigators are drawn to places like this. A lot. And Mr. Groff and Ms. Weidman have three days worth of time to kill. I always wondered why Ghost Hunters would stay at a place for only a night. This show's twist of spending 72 hours onsite, combined with brisk editing and good camerawork, and two progressively sleepy hosts, is highly watchable even when nothing spooky is happening.
There are the usual personal impressions of feeling this way or that when entering rooms and one particular closet. An electronic spirit box is utilized and more EVPs are collected. Some interesting audio is captured, but still hard to verify beyond interpretation based on the timing and situation. Still, it's evidence to ponder.
Then Rob, the cameraman, once again sees something interesting and captures it. So I'm thinking Rob, who got bit in the Anderson Hotel episode, is a ghost-magnet and maybe they should get him to sleep in the middle of hallways as bait instead of Mr. Groff.
Which, come to think of it, is freaking crazy to begin with. Mr. Groff likes to make the 3am night shift a gamble by plopping his bedroll down in places no one in his right mind would want to spend much time in during the day, let alone the dead of night. Alone. In the dark. This time he sleeps in the middle of the basement while Ms. Weidman stays cozy with the spirit box a few floors above.
Ms. Weidman always seems to manage a saner and more comfortable sleeping spot. 
A courtesy screening of this episode was provided for this review.