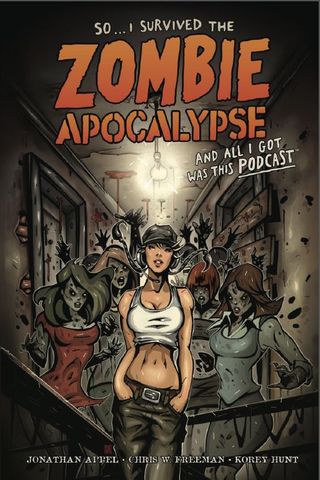 Zombos Says: Fair
So...I Survived the Zombie Apocalypse and All I Got Was This Podcast is about perky, nubile, blond and boxom, podcasting Mara Mitchell, who loves gardening and making new friends when all her old ones are dead. All her potential new friends are dead, too, but they like it that way and don't want her company.
Cue the zombie apocalypse peppered with satirical moments as Mara is forced to leave her cozy, walled-off, townhouse when a snake bite sends her to the drug store. Only she never reaches the drug store. Instead, she finds out what's been going apocalyptic while she's been gardening and podcasting. Unfortunately, Chris W. Freeman and Korey Hunt can't make what's been going down around her as clever as the title of this graphic book. 
I'm starting to think too many writers and artists in comic books are inbreeding at an alarming rate. Here's another cool premise shot to hell with the same stereotypical sexism, the same half-baked humor without zest or visual flair, and the same character types recycled by very good, good, and not so good artists--five  too many to keep the story flowing evenly across the pages. This is the let-the-panel-do-the-talking type of graphic novel, so dialog and written narrative are sparse, but much needed to flesh out Mara and her zombie neighbors. Her zombie neighbors are all women and that's the kicker to this premise: even they can't stand her, but since they only eat the male zombies, they leave her alone. 
Until she wants to make friends, that is; first the pretend zombie dress-up for the dead party, but that doesn't go well when her nerdgirl takes charge, then it's a pissing contest between the mangy dog that can't keep its leg down, and the lady deadites against the human, leading to a full-blown Rambo onslaught when a trap is sprung with roller-skates and a mannequin. Goofy, but not smart funny; just stupid-funny. 
Mara's hookup with old chum, Lisa--she's really dead, like non-reanimated corpse dead--leads to an odd, one-sided buddy-buddy reunion. That's a little smart-funnier.  But not much.