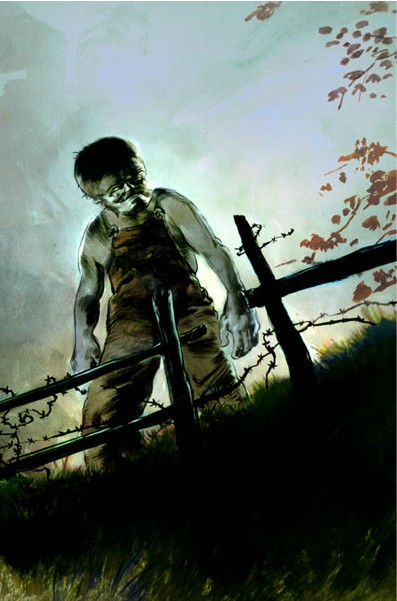 Zombos Says: Fair
Steve Niles perfunctory story is surpassed by Greg Ruth's beautifully atmospheric panels in Dark Horse'sFreaks of the Heartland, providing the only reason to pick up this 9 x 12 inch formatted hardcover edition.
Without Ruth selling the emotional interplay between characters and setting visually, this story amounts to only an exercise in the writing of a stock situation--they're not like us so we're scared of them--of which we've seen much too much already in movies and fiction to be enamored simply because it's used. Again.
Freakish big brother with nasty eating habits chained in barn? Check. The rest of this rural community beset by freakish siblings also chained in barns or locked in storm cellars? Check. Non-freakish siblings disturbed by all this mistreatment of their brothers and sisters? Check. They ignore adults and go on the lam? Of course. The adults squabble among each other as to how to deal with the situation thereby making it worse? Check and double check.
Adding fire-breathing to the mix doesn't tally to originality either, and ending this weakly plotted story abruptly (a major problem with many comic book driven stories), eclipses the plotline backstory--what caused all these freakish births and why?--that Niles ignores.
Instead, he rests on his laurels by using the villagers-lighting-torches and the children-will-save-them action scenes. Is he good at using them? Yes. But good writers abound in digital and print and many of them actually have new stories with fresh ideas to tell. There's nothing in Freaks of the Heartland, beyond Niles' name attached to it and Ruth's stellar ink and watercolor storyboard, that warrants our admiration, or being optioned off for animation or a live-action movie adaptation. Unless they go with animation;  they could follow Ruth's lead and captivate us with illustration. But whoever adapts the story will have a lot to fill in. Freaks of the Heartland is only a chapter when it should be a novel.
And yes, I find that galling. 
So many talented writers are out there struggling while Niles knocks off safe horror pablum for the fanboys who swoon at his feet. Enough swooning already. Get off your butt Niles and work for that paycheck.