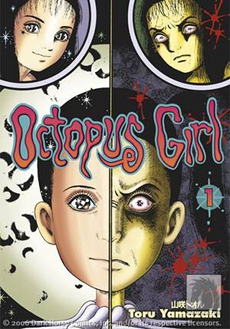 Any Otaku worth his or her geeky cognomen knows about Toru Yamazaki's horror manga, Octopus Girl, the cute little girl who's head is bigger than her eight dainty tentacles. Know a horror fan who's a budding Otaku? Then this manga would make a perfect gift to give for any holiday occasion.
Taunted and abused by her classmates, and after having an octopus stuffed into her mouth--with her being allergic to octopi, and probably shell fish, too--Takako wakes up one morning to find she's turned into a little cephalopod. Of course, at first she's horrified and wreaks bloody vengeance on her tormentors, but after a swim in the ocean, she calms down, just a bit, to pursue her new life in a series of wild vignettes that will make you wonder how much drinking Yamazaki does before noon and after midnight. 
Be that as it may, the explicit artwork (for gory illustration of entrails and dislocated eyeballs mostly) is a delightful journey of crass craziness with copious bodily fluids vomited as Octopus Girl alternates between playful and sadistic and homicidal. Pairing up with another unfortunate girl, Sakai, who had turned into an eel, and who, by the way, wants one or maybe two of Tako's  tentacles to nibble on--hey, they grow back, right?--granny vampires, unrequited love with face-eating now and then, wicked sea witches, and other nasties keep these two bottom feeders quite happy, or insane depending on the time of day.
At one point Yamazaki has to put his big foot down and kick some sense into Tako, which he actually does in the comic. Yamazaki's quirky wit abuses the cultural and personal as Tako takes on contestants in Idol and teenage romance and monsters. What's sublimely offending to any sensitive soul is the lack of remorse, regret, or any moral compass whatsoever within Tako's world. Lovecraftian to the tee? Perhaps; most of horror manga is. It doesn't get any weirder than this (well, maybe it does, but I figured I'd end on a positive note because you can't go wrong with Octopus Girl anyway.
But be warned: Yamazaki embraces the brutal and the heartless in his Grand Guignol artwork. Laughing one day and dying horribly the next sums it up quite tidily I'd say.