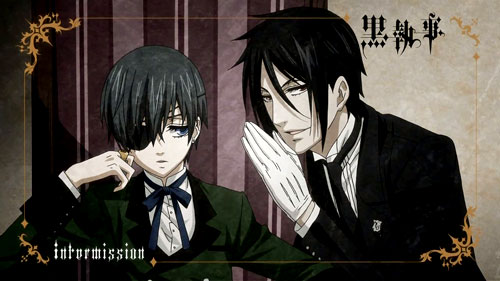 Zombos Says: Very Good
Tana Yoboso's dark Victorian fantasy manga, Black Butler (Kuroshitsuji), makes an elegant transition to mature anime directed by Toshiya Shinohara that mixes hand-drawn and computer-animated elements, different scene angles, and manga's expressive exaggeration to create a strong mood for its colorful--and morose--characters.
Young Ciel Phantomhive seals a Faustian pact with the demon Sebastion, who, in his human form, becomes Ciel's ever attentive and sartorially splendid butler. Sebastion is bound by the pact to help Ciel find the people responsible for killing the boy's parents, kidnapping and torturing him, and destroying the Phantomhive manor house, a large estate outside of London. What Sebastion gets in return is the boy's soul, swallowed whole, when the contract is fulfilled. Their relationship becomes more and more complicated as time goes on, but each remains true to his nature. Or do they?
Seasons 1 and 2 of A-1 Pictures animated series liberally follow the manga stories. In the first episode, His Butler, Able (Sono Shitsuji, Yūnō), Damian, an Italian business man, tries to scam Ciel over Phantomhive's Funtom Company (toy and confection) business that Ciel now heads, leading to a gruesome comeuppance capped by having Damian cooked in an oven. While not as horrific as it sounds--Damian was bewitched into experiencing his losing moves played on a boardgame--we find out how nasty Ciel and Sebastion can be. We're also introduced to the other important servants in the Phantomhive manor house who provide the comic relief: Bardroy the cook, Finnian the gardener, and Mey-Rin, the clumsy maid. There's also Tanaka, former head butler to the Phantomhives, who often appears super deformed (as a really small man holding a green mug of tea).  I don't know what the significance of him being super deformed is so feel free to enlighten me, but it is funny. In later episodes, Pluto ( a large demon hound) joins the household and Tanaka is seen as a normal adult.
Ciel wears an eye-patch over his right eye to hide the pentagram seal that binds him to Sebastion, and Sebastion must obey every command Ciel gives him. Unless a cat is nearby;  Sebastion is enfatuated with cats . Curiouser characters appear like the Undertaker, a former Grim Reaper (reapers decide if a soul lives on or dies) who craves a good joke, and Angela and Ash, an hermaphrodite angel with two personalities. The Undertaker assists Ciel in his duties as Queen Victoria's watchdog. The Queen herself is portrayed as alarmingly unhinged: she has a puppet of King Albert to whom she talks to whenever she is troubled. I'm not sure of the cultural nuances of that, either.
As the Queen's watchdog, Ciel is obligated to protect her's and the state's interests and deal with the more shady denizens of London. A drug dealer and his gang fall to flashy silverware slay of hand by Sebastion as he rescues Ciel, and they tear one up with Jack the Ripper, leading to a surprise revelation for Ciel.
Victorian charm is well captured in the animation as well as the darker side of Sebastion. Lots of strong tea brewing and odd closeups of scrumptious deserts provide for lighter moments. You may find yourself snacking heartily during each episode. Bon appetit!