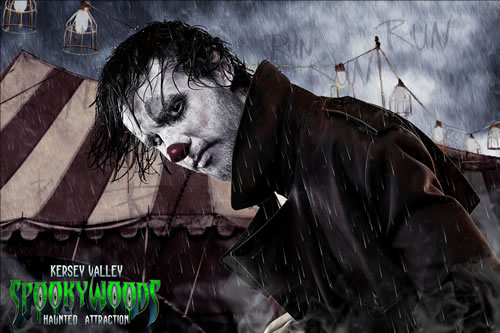 Five questions whispered, in a haunted place where there be monsters (and really creepy clowns), on a crisp Autumn night, in-between the screams of horror and delight...to mayhem-keeper Tony Wohlgemuth of Kersey Valley Spookywoods...
Why is a Haunted Halloween important?
A Haunted Halloween is a tradition. It builds memories with friends and family that are impactful and lasting.  A haunted attraction is the ideal location to explore and face your fears in a safe and entertaining environment. There's also the element of fun! We believe there is no better way to experience the thrill and excitement of the Halloween season than at an incredible haunted attraction.
What elements make an ideal Haunt Attraction for you?
A superior haunted attraction must create a safe environment, with splendid attention to detail, passionate actors and the masterful art of distraction. Creating the atmospheres and characters people fear the most is another key element at the most successful haunts.
What's the most unexpected moment you've seen during a Haunt Attraction?
A van creeps down the road toward the parking lot, full of anxious, nervous and excited people. As the parking attendant exchanges the parking fee for the pass, a shadow comes over the hood. One of the characters lurking in our dark woods startled the contents of the van so badly everyone abandoned the vehicle and took off running. At our place, scares don't wait at the front door…they come to you!
Describe your first Haunt Attraction experience and why it scarred you for life (in a good way).
It all started with a dare between friends in 1985 to go into an abandoned farm house. Getting a good scare from a family of bats perpetuated the decision to create a haunted attraction. That attraction today is Kersey Valley Spookywoods, one of the largest haunts in the country, and we call it home.
What's the one Haunted Halloween question you want to be asked and what's your answer?
Q: When will it ever end?
A: Never! Even after I'm gone, I'll be back!