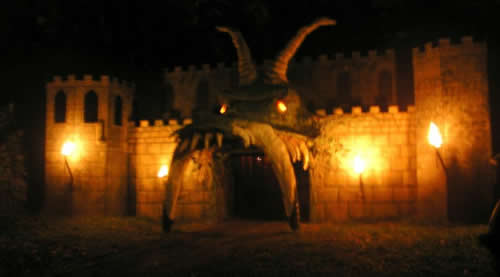 Five questions whispered, in a haunted place where there be monsters, on a crisp Autumn night, in-between the screams of horror and delight...to mayhem-keeper Randy Bates of The Bates Motel and Haunted Hayride, and Pennhurst Asylum Haunt Attractions...
Why is a Haunted Halloween important?
Halloween has become one of the most celebrated holidays of the year, and this is important as the Halloween season lasts the whole month of October. With the advent of high tech horror movies and their amazing special effects, Haunted Attractions strive to create an atmosphere of realism that will rival these Hollywood films. More people than ever are going to Haunted Attractions, hayrides, corn mazes and pumpkin patches. This is important because it tends to bring families together. I have had many parents tell me that attending our attraction is the only time their children (and teenagers) enjoy going out as a family. They say it brings them together.
I operate two Major Haunted Attractions, The Bates Motel and Haunted Hayride, located outside Philadelphia, PA, and Pennhurst Asylum, in Spring City, PA. Both are highly detailed and themed, and have acombination of high tech animatronics, digital sound and light systems, and professional actors. Both attractions are members of America Haunts, the national coalition of America's best haunted attractions.
The Bates motel features a 25 minute long Haunted Hayride through the dark forest at Arasapha Farm, filled with amazing sets, 80 actors and huge pyrotechnics. The Haunted trail is a 20 minute walk through the tall corn with tons of actors, detailed sets and buildings, custom soundtracks and more scares than you can imagine. The infamous Bates Motel is a high action Haunted House that has incredible detail, custom sound and lighting, and some of the best actors in the business.
Pennhurst Asylum consists of 4 attractions. The Asylum is a hospital themed walk-through of the first and second floors of the old administration building. With 14 foot tall ceilings and beautiful architecture, this haunt shows off the building that was built at the turn of the last century. The Dungeon of Lost Souls is a medical experiment laboratory gone horribly wrong. Using items found on the abandoned Pennhurst property, this attraction is dark and intense. The Tunnel Terror haunt is located in the subterranean tunnels of the Pennhurst complex: a 900 foot walk-through of the darkest history at Pennhurst. Our Ghost Hunt attraction is a self-guided tour of the Mayflower dormitory, reportedly the most haunted building on the premises, and featured on Ghost Hunters and Ghost Adventures. Pennhurst Asylum is like no other haunt in the country.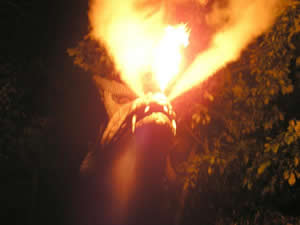 What elements make an ideal Haunt Attraction for you?
I like a Haunted Attraction that immerses you in their show. When you walk into a Haunted House, or enter a Haunted Hayride, you should be lost in the realism; it should make you feel that you are in another world.
Personally, I prefer highly detailed sets, and unexpected scares. When an actor or prop pops out at the least expected location, that makes me smile. If you have a lot of detail, it should be well lit and defined. If there is little, detail, it should be dark. I really like the fine detail, and in my attractions have many hidden nuances that most people don't pick up on, but we as the owners, place a lot of subtle jokes here and there. Our exploding gas station has a real gas station sign with prices for regular, improved and premium. Our price for premium is $6.66! It's the little things that keep customers coming back every year.
What's the most unexpected moment you've seen during a Haunt Attraction?
In 2010 we had a customer stagger out of the Bates Motel and collapse on the ground, holding his chest. Our EMT was right there and believed the customer was having a seizure and told me to call for an ambulance. After a few minutes, the customer sat up and took a couple of deep breaths. When asked if he was feeling OK, the man responded that he had a defibrillator implant and that it had fired going thru the last room of the Haunted House. I asked him why he would go through a haunted attraction with a heart condition and he told us that he goes to them all the time, but just never got that scared before. Despite his objections, we sent him to the hospital anyway. One of the great things about being a member of America Haunts is that we have a vast amount of industry knowledge and are able to share this with all of our members. One of them is customer service and we all are able to benefit from the group experiences.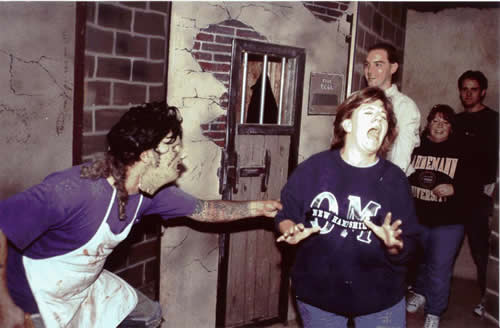 Describe your first Haunt Attraction experience and why it scarred you for life (in a good way)?
We had run our Haunted Hayride for several years before going to a small haunted house in Salem, Massachusetts. My wife and I knew a bit about running an attraction and decided to go to Dracula's Castle. The haunt was very small: only three rooms and a couple of actors. When we came out, we were a bit disappointed and decided to sit on a bench to view other customer's reactions. Surprisingly, most came out laughing and talking about the show. They really had a good time. We looked at each other and right there decided to build the Bates Motel haunted house, knowing that it would be a hit.
What's the one Haunted Halloween question you want to be asked and what's your answer:
Why do you run a Haunted Attraction?
Answer: Despite the stress of operating two large attractions, the gratification outweighs the downside. When the weather cooperates, the business does very well, and affords me the time to spend with family and friends in the off season. Running a haunt also means watching our customers enjoy our show. We provide the adrenalin rush of being scared, and there is nothing better than watching a group of people running out of the Bates Motel screaming at the top of their lungs.
When I go through our Haunted Hayride, I love to find a central location where I can hear the screams from each scene and know the customers are having fun. Our Hayride uses 12 tractor pulled hay wagons and at any given time, 8 – 10 of them are in the woods, so you can hear the screams all around you. The other benefits of running our attraction is being able to work with my grown children, family and friends. Our staff is like an extended family of 240 people who all get a kick out of giving our guests the best show possible.
I could not imagine working anywhere else!