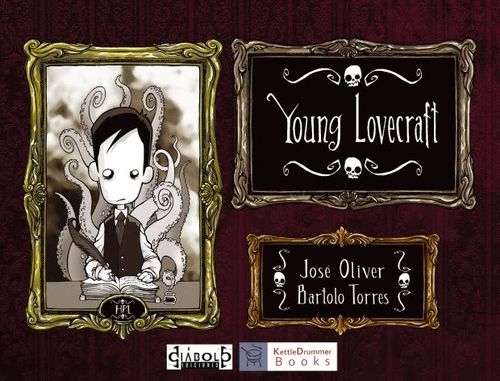 Zombos Says: Good
What's a cultured and persnickety boy to do? Summon the gods to deal with all that growing-up-nerdy angst? and bullies bullying? and annoying aunts not in tune with those outre wavelengths his brain puts out? Why, yes!
Jose Oliver and Bartolo Torres let young Howard Lovecraft do just that. Even if he does bother Santa Claus every Christmas with requests for a copy of the Necronomicon in his stocking, and although he has little experience with his heady conjurations so they don't always work the way he'd like, and, well yes, those aunts are trying at times, but all in all, little Lovecraft gets by with a little help from his odd friends (and assorted demi-gods); and sometimes, even in spite of their help.
With Young Lovecraft's childhood encounters captured in 3-panel comic strips, the humorous zing has to be measured precisely in three beats, and for the most part, it is, aided by the minimalist, manga-styled and off-kilter artwork. With charmining aunties taking him to origami fairs and picking up evil guitar-playing hitchhikers, and with him over-dressing for Halloween as Harun Al-Rachid, the Caliph of Baghdad, the opportunities for his awkward weirdness complicating things geometrically propagates.
Add to this his penchant for rewriting the classics with the same dreadful theme, picking up dog-like ghouls in cemeteries, and sepulchre-partying with people like Edgar Allen Poe, Charles Baudelaire, and Arthur Rimbaud (though those panels don't exactly raise the dead in their zest), Young Lovecraft does manage to keep things infectiously cheeky for fans of the mythic mythos meister.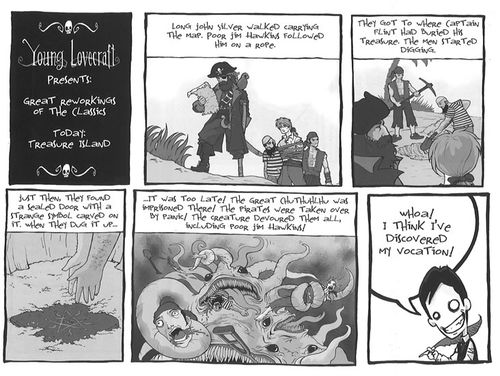 While this first volume is not quite as squirrely written and wittily acerbic as Roman Dirges's Lenore, the same lightly dark tone and zany mischief can be found in Oliver's characters and situations, and in Torres's wild-eyed, noseless, facial expressions. Of course, being translated from the original Spanish, the words may lose some of their nuances in the translation.
But if you can imagine Charlie Brown partying among the tombstones and summoning ancient gods to handle life's daily challenges facing a not-your-average kid, with his usual bungling innocence not helping, than you will enjoy Young Lovecraft as much as I did.