Zombos Says:  Very Good
"Let me in! Let me in! For the love of god, man, let me in!" I screamed while pounding on the garden shed door.
Pretorius, our groundskeeper, unlocked the door quickly, pulled me inside, and slammed it shut almost before I was fully through. He was out of breadth as much as I was. The walking tree trunk we were running away from started slamming against the shed door. I cautiously peered through the small window. Its googly eyes stared back at me, then, frustrated it couldn't reach us, it shambled off.
"What the hell is that thing?" I said to Pretorius. "And...are those your garden shears sticking out of it?"
"Snuck up on me...it did...while trimmin' the rose bushes," he said, in between huffs and puffs of air. "So  startled...I stuck my shears in it. Don't know where...it came from...or why."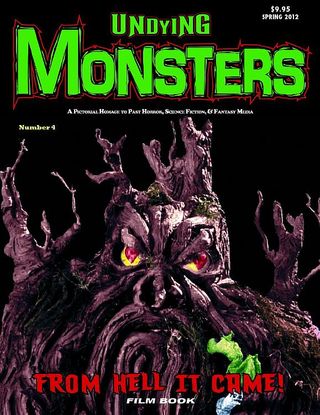 I leaned against the wooden potting table and caught my breadth, but my heart was beating a mile a minute.  "Hey, what's that?" I asked, looking at the new bags of fertilizer. I read  the label out loud. "Golgothan Fertilizer.  The very best poop to make your flowers pop. Arkham Nurseries, Massachusetts."
"New stuff," said Pretorius. "Zombos wanted... to cut expenses...so I found--say, you don't think?"
Before I could answer, Zombos started pounding on the garden shed door, yelling to be let in. I opened the door and pulled him to safety.
He tried to catch his breadth. "What the hell...is that thing? Never in... my life...have I--and why are garden shears stuck in its bark?" he asked, in-between taking mouthfuls of air.
From his frock coat pocket--yes, his warddrobe was as old as he was--tumbled issue 4 of Undying Monsters, though crumpled and torn badly. I picked up the magazine. 
"Sorry," he said, "post brought it. I was bringing it...to you when...that blasted stump crept up on me. Magazine...is useless as a weapon."
I uncrumpled the cover. "Hello. Does this look familiar?" I held it up for Zombos and Pretorius to see. 
"Good lord, it looks like the stump chasing us!" said Zombos. "Quick...find out how they kill it in the movie. Maybe that will help us."
I thumbed through the pages of the From Hell It Came film book. 
"Will you stop looking at the pictures!" said Zombos.
"I can't help it, they're very good, and there are a lot of them." I replied. "Let's see. Island prince framed for murder he didn't commit and stuffed in tree trunk, tree trunk, called Tabanga, comes back to life to shuffle slowly after people, and--heh, heh, heh--"
"What are you laughing about?" asked Zombos. 
"I can't believe they went to all this trouble to write up this goofy movie. I mean, come on, look at how slow the darn thing shuffles along. And its limbs are so stubby, there isn't enough room for a bird to nest on, let alone worrying about getting strangled by this thing. If you ask me--"
Pretorius jumped in impatiently. "I'm askin' you: how'd they stop it?" 
"Right, that, well..." I thumbed through to the end, "okay, here it is. They shot the knife that was previously plunged halfway into its heart, pushing it in to the hilt. Bingo!"
Pretorius said,"then all I need do is push the garden shears in all the way. Hmph. How to do that, then?" He looked around the shed until his eyes lit on a long-handled shovel. "Perfect. I won't need to get too close with this baby." He picked it up, looked out the window to make sure the coast was clear, and opened the door. "Who's with me?"
Zombos and I looked at each other for a long time. 
"Fine. I'll take care of this myself, then." Pretorius held the shovel tight and headed out to find the tree trunk.
Zombos slammed the door shut and relocked it. "While we wait until the coast is clear, what else is in the issue?"
"Let's see. Here's a nostalgic article on old monster board games. Shame the pictures are in black and white, but they've got the classics listed here. Nice rundown from the 60s up to the 70s. Good list for a collector. Never knew there was a Mummy Mystery boardgame. Wish I had this Boris Karloff Monster game. Great box cover and board art on these games, too."
I flipped to another page.
"Here's an interesting and lengthy article on Nostalgic Fear for Your Ears! by Ed Gannon. Caedmon, Pickwick, Peter Pan, Troll, Power, Electric Lemon, boy, he's covered the records pretty well. Brings back a lot of memories. Never could get into the spooky sounds records, but these spoken word ones were great to listen to in the dark, late at night."
I flipped to another page.
"Now you, especially, will find this noteworthy," I told Zombos. Here's an article on Clark Ashton Smith paperbacks.  Robert E. Howard, H. P. Lovecraft, and Smith made up the Weird Tales triumvirate of terror masters. His work is essential reading for anyone who deems him or herself a horror fiction fan."
I was about to mention the article on the Criterion Collection of DVDs, but was interrupted by Pretorius yelling and banging on the garden shed door. I let him. He held the shovel, the handle now broken into two pieces.
"Not long enough," he said.
Zombos looked around the shed. "I have a better plan."
He picked up the chainsaw and handed it to Pretorius. "Go get it!" he said, opening the door.