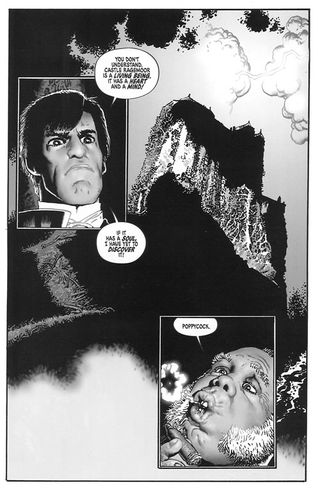 Zombos Says: Very Good
While I now only read graphic novels and trade paperback compilations of comic books--usually, anyway --this first issue of Ragemoor drew my attention because of Richard Corben's involvement.
Any Eerie, Creepy, and Heavy Metal magazine reader knows the name well. That this issue is also printed in brooding black and white only heightened it's appeal for me. And with writer Jan Strnad (who also wrote for Warren Publishing), the mood is assuredly sinister, the tone Gothically charged, and the foreboding future hinting at ancient monstrosities biding their arcane time until the moment's ripe for terror.
This first issue introduces the blood-drenched history of the rambling edifice as Herbert futilely warns his Uncle and companion to not spend the night at Castle Ragemoor, whose walls are alive with malevolent purpose and mystery. Herbert blames his brother's madness--he wanders the halls naked, peeing on the walls--on the castle's evil influence. His uncle thinks it all poppycock, mostly because he's looking to inherit the place after having Herbert committed.
After being shown to their rooms by Herbert's lone servant, Bodrick, his uncle and companion learn how dangerous the castle can be as parts of it come alive with a vengeance.
Corben's art is vibrant and propels the story's menace. Strnad's words explain only a little, leaving much more to be revealed, and allow Corben to show the dread. With Ragemoor's grinding movement of stones in the dead of night producing new rooms and longer hallways, what else may happen to Herbert and his future guests  is uncertain, but certainly will be deliciously deadly.