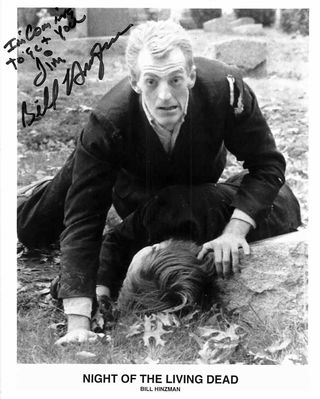 He was the first of the Marauding Ghouls to be seen in the original Night of the Living Dead. While visiting the grave of their father, Johnny (Russel Streiner) taunts his sister (Judith O'Dea) by eerily saying, "They're coming to get you, Barbara." He then points to a figure rambling among gravestones in the distance. He then says, "Look, here comes one of them now!"
In true cinematic irony, this figure was indeed coming to get not only Barbara, but Johnny too. During the scuffle Johnny gets killed, their car gets wrecked, and Barbara ends up in the deserted farmhouse where the bulk of the story's action takes place.
The Ghoul (Bill Hinzman) is last seen, for now, lurking about the house. Later he, and the now ghoulified Johnny, turns up in one of the final shots of the film were the house is overrun.
Like many a mini-budgeted film (especially of the 1960s), several who worked on NotLD behind the camera also made an appearance in front of the camera. This I could definitely identify with since I had made brief appearances in many a low budget production I was involved with.
Throughout his career Bill Hinzman was essentially a cinematographer/photographer. He functioned as an assistant cameraman on NotLD. However, his small role as a ghoul (or zombie, as some sources indicate) in this truly bonified cult favorite was his first foray into filmmaking. He continued in the genre, being involved with films like Legion of the Night (1985), Majorettes (1986), Flesheater(1988), Santa Claws (1996), Evil Ambitions (1996), The Drunken Dead Guy (2005), and his final role, River of Darkness (2011).
Generally a fan-friendly great guy, he was always willing to talk of his involvement with NotLD. He was at a loss for words when asked how it had almost immediately fallen into Public Domain. He was very verbal about it's 1998 30th anniversary 'resurrection' video release, slightly re-edited with added footage. Naturally, his ghoul character was subsequently 'resurrected' (enuf of that pun), more developed, and occupying more of this NotLD Redux's running time. However, he was reluctant to explain how this particular walking corpse had noticeably aged at least 30 years.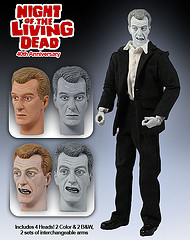 When approached at conventions he would emphasize the fact that his best work was done behind the camera. During a brief on-camera interview for the Professor Kinema show he was quick to point this fact out. However, at later conventions he was usually in ghoul makeup with a ghoul statuette of him prominently displayed at his table, available for sale. Herein his true cult figure status was clearly defined.
A mystery he solved for me was the reason why his ghoul character wasn't acting consistently with the actions of subsequent ghoul characters. This character appeared to be more a deranged madman rather than a slow lumbering resuscitated corpse. His explanation was that this sequence was among the last to be shot and director Romero instructed him to act in this manner. The hero had to be killed, the car had to be incapacitated ("Johnny's got the keys"), the girl had to be pursued. The plot had to get underway
Bill Hinzman left this realm for real on February 5, 2012, from cancer. His death occured the same day as that of Josephine Streiner, a crew member who also played a zombie/ghoul in NotLD.